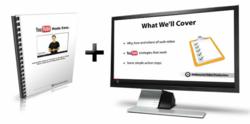 My goal here is to make a difference, not a profit
Melbourne, Australia (PRWEB) July 23, 2012
There once was a significant divide between how small and big businesses marketed their wares, with the former being outstripped by the latter's ability to utilize expensive advertising. But, that's all changed now with web entrepreneur and marketing guru, David Jenyns, showing small businesses how to shatter the advertising 'glass ceiling.'
"Most people still think advertising is complicated and expensive," says David, "but that's not the case anymore with innovative marketing strategies that utilize free mediums like video marketing on YouTube."
Much to the surprise of his internet marketing cohorts, David has made his most popular course available for little more than the cost of a decent cup of coffee. For only $7, his seven step program has been launched alongside his new video marketing company, Video Marketing Australia.
David accomplished his goals many years ago with his most well known company, Melbourne SEO Services, and since has been converting his skills and knowledge into this straightforward online video course.
"I achieved my success by using the exact program available on VideoMarketingAustralia.com," comments David, "I'm making it available at cost-price because I want to see small businesses push through the current economic hard times."
Growing frustrated with the general perception that advertising was costly, while watching some of his neighbourhood establishments go under, David made it his personal goal to make a difference for small businesses.
"Since the global financial crisis hit," says David, "I've seen some great businesses struggle and close down, and I can't help but think it could've been avoided if they'd only known there were cheap, effective resources available to them."
When VideoMarketingAustralia.com went live, David used it as his vehicle to make his top course available at cost price. Comprising of seven videos, the program includes topics such as: Using Email Lists and Google Maps, Website Usability, Applying SEO (Search Engine Optimization), The Importance of Press Releases and Social Media, and his particular specialty - Video Marketing.
"I'm not making some crazy fortune by selling this course for pocket change," remarks David, "my goal here is to make a difference, not a profit."
David's course is now available at http://www.videomarketingaustralia.com/
About Melbourne SEO
MelbourneSEOServices.com is a full service search engine optimization (SEO) consultancy, based in Australia, but with a worldwide client base.
Known for being at the cutting edge of strategic SEO practices, the company delivers a growing suite of services including: on-page and off-page search engine optimization, article distribution, Google Places listing, SEO press release service, web video production and one-on-one consulting.
Melbourne SEO Services Director, David Jenyns, has, over several years, built a team of experts who are niche experts to support the business, and who share his ethos for ethical, professional internet marketing.
More about David Jenyns at http://www.melbourneseoservices.com/seo-experts/