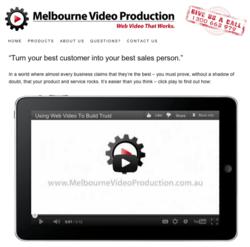 Web video is the lowest hanging fruit for SEO right now, businesses just need to take action before it's too late.
Melbourne, Australia (PRWEB) May 11, 2012
With the onset of the megalithic YouTube Generation – searching & watching online like there's no tomorrow – it's a small wonder why web video is now playing a major part for businesses. It's fast becoming a leading and essential part of any flourishing business online.
Previously, just the thought of producing a video, any type of video, would make small businesses shrink away in fear at the cost. But now, for those who obtain the right tools and know-how, it's more cost effective than ever before – and potentially a vital part to a business's success.
David Jenyns supports this notion, further explaining that "web video is the lowest hanging fruit for SEO right now, businesses just need to take action before it's too late."
Jenyns' latest creation, Melbourne Video Production, throws a life-line to the small business owner by offering all the bells & whistles of a fully serviced video production team, but at a fraction of the cost. By offering hire services to produce videos, Jenyns lowers the entry point and levels the playing field for all who want to use web video to enhance their business.
Jenyns' Video Production in Melbourne has already achieved success for their clients. But "there are still people with stage fright, and are nervous about taking that first step into web video," says Jenyns, "we needed to unlock the door and open it right up to everyone."
Being the mastermind behind search engine optimization company Melbourne SEO Services and Melbourne Video Production, Jenyns gives the novice in web video access to his resources from as little as $40 per hour – and allows them to go at their own pace, with as little or as much help as they want.
"We're offering a way for the everyday, small business to access the red carpet for their web video" explains Jenyns. "There's no way businesses can move forward nowadays without it, so we're proud to be one of the few offering services in a manner that everyone can afford."
Jenyns' studio hire in Melbourne range from $40 to $80 per hour, with extra services and assistance available with the click of your mouse - http://www.melbournevideoproduction.com.au
About Melbourne Video Production
MelbourneVideoProduction.com.au is a full-service web video marketing company specializing in video production in Melbourne. They create complete campaigns from the ground up: from script writing to video production and marketing it online.
Known for being at the cutting edge of strategic video marketing and SEO practices, the company has a range of video products designed to help you connect with your customers, turn your clients into your best sales people, and save time and money by answering your frequently asked questions in video.
Melbourne Video Production Director, David Jenyns, has, over several years, built a team of experts who are niche experts to support the business, and who share his ethos for ethical, professional Internet marketing.