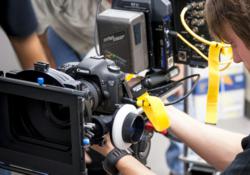 Video is the stickiest web content there is.
Alexandria, Virginia (PRWEB) May 07, 2013
It's not easy keeping audiences engaged in a video production. Any video producer, editor or director can tell you that. Storytelling is a real art and conveying a message through video can also be technically demanding.
Growing video production company Story Store Media is gaining a foothold in the Washington, D.C. area by embracing the fast growing need for quality online video that more and more companies are realizing is a need and not just a 'nice thing to have'.
Former in-demand freelance editors Corey Petree and Paul Borostovik are celebrating the start of their third year in the Alexandria, Virginia neighborhood of Del Ray, producing videos for clients that engage audiences, send the right message, and get results.
"Our goal is to turn complex topics into meaningful messages," said partner Paul Borostovik, "Our clients understand that a successful video is really a well-told story."
Creatively crafting meaningful stories that resonate with the target audience keeps customers coming back.
The firm's storytelling technique guides all of their offerings:

Online Video
Script to screen video production
Videography
Video Editing
Producer Services
Public Relations Videos
Advertising Videos
Business Videos
Marketing and Sales Videos
Accomplished producer/director Erin McCahill (Good Egg Media) relied on Story Store Media to help shoot, edit, sound design and design motion graphics for a video that has received over two million hits on YouTube. "Video projects of this size can be daunting - but not if you have the right team in place." says McCahill "I trust Story Store Media as an integral part of the process, from script to screen, We have an ongoing relationship because they understand and embrace the vision and always deliver on time, on budget and on brand."
Video was a niche product not long ago. Now every growth-oriented organization uses web video to engage audiences and socialize their message with compelling content.
Story Store Partner, Corey Petree adds , "The video "play" button on a website is the best way to keep visitors from hitting the "back" button on the browser. Video is the stickiest web content there is, and those serious about engaging audiences are using video in a big way."
Growing An Audience With Video
Story Store Media now offers social video marketing to build viewership for their clients' videos. They are employing exciting new social marketing tools and creative techniques to increase viewership and distribution of online video for clients
.
The firm is located in the creative corridor of Del Ray, near Old Town Alexandria, Virginia.
About Story Store Media –
Principals Paul Borostovik and Corey Petree opened the doors of Story Store Media after over 40 years combined experience in film and video production, serving clients from NASA to National Geographic, the U.S. Census Bureau to AOL and dozens of other corporations and associations. We've crafted award-winning television commercials, documentaries, music videos, video for events, broadcast and the web. Our client's messages sing with the latest video technology and storytelling methods. Our committed goal is to serve our clients with the most compelling, motivating and inspiring media possible.
For more information about Story Store Media and how they can help your organization move its message forward, contact Corey Petree at (202) 681-0470.