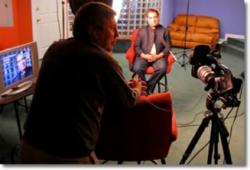 Tony Perri's advice"Always have a video camera with sound recording ready to go at any time. Be factual, truthful, and accurate in the way you convey a news story to the public – that includes airing on broadcast as well as digital platforms. "
La Jolla, CA (PRWEB) December 07, 2012
The Digital Arts Department at UC San Diego Extension is pleased to announce that Tony Perri will teach our upcoming Backpack Journalism course. Perri made San Diego his home following a pioneering career as a broadcast journalist, and founded Surf's Up Studios, where he produces and directs citizen journalism pieces, documentaries, music videos, viral social media content, and more. He has taught at University of Colorado, as well as in and around San Diego. This course is one of many video production training classes that are now being offered at UC San Diego Extension.
Perri's credentials include: Executive producer and director at Surf's Up Studios, broadcast career work with the Walt Disney Company, CBS, ABC, NBC, BBC, CNN, FOX, and Warner Bros. Studios. Perri holds a B.A. in Broadcast Communications from Cal State, Chico, and served as an adjunct professor of Broadcast Journalism and Documentary Production at the University of Colorado, Boulder. Tony has won 24 industry awards, including an Emmy, Protos, and PRSA.
Tony Perri's advice to people who are interested in getting into the news world as an iReporter and a backpack journalist includes, "Always have a video camera with sound recording ready to go at any time. Attend major events and look for places and things that have the potential for a story. Be factual, truthful, and accurate in the way you convey a news story to the public – that includes airing on broadcast as well as digital platforms."
With these tips from Tony, along with learning how to generate and produce topical news and entertainment features for the public, how to write a story, and how to professionally complete the process of video production, post-production, uploading, and distribution of digital news videos in Perri's upcoming course, you will have caught up with 2013's technology.
For those interested in a career change and video production professional training, the Digital Arts Center(DAC) offers a Professional Certificate in Video and Editing. Information on this certificate can be found on our website or by attending one of the DAC program's upcoming information sessions.
Other courses offered during the Winter 2013 quarter include Adobe Premiere I: Introduction to Video Production, Adobe After Effects I: Introduction to Motion Graphics, and ProTools I: Introduction to Audio Production.
About UC San Diego Extension
UC San Diego Extension is a division of the university's Extended Studies & Public Programs, offering 100+ professional and specialized certificate programs in a variety of disciplines. Nearly 50,000 adult learners attend classes each year at its facilities on the UCSD La Jolla campus, the University City Center, and the Mission Valley Center