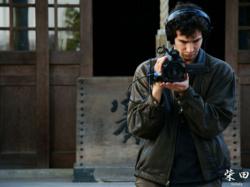 She will be working to make our Video & Editing courses even stronger, connect our students within her extensive network, and work with our video production students to produce high quality reels of which they can be proud
La Jolla, CA (PRWEB) August 15, 2012
The Digital Arts Department at UC San Diego Extension is pleased to announce that Jodi Cilley will teach our upcoming video production courses. We applaud her active involvement in the San Diego film community and in local non-profits and are enthusiastic about to the opportunities for involvement that our video and editing students will be presented. "I am thrilled to have Jodi assume the lead video production instructor and editing instructor positions here at UC San Diego Extension Digital Arts Center," said Susan Varnum, director of the program. "She will be working to make our Video & Editing courses even stronger, connect our students within her extensive network, and work with our video production students to produce high quality reels of which they can be proud. Jodi is talented and dedicated and will be a great addition to our DAC team."
Jodi Cilley's credentials include an MBA from San Diego State University with specializations in Entrepreneurship and Management, a BS in Sociology from Boston College, and a Certificate in Video and Film from San Diego City College. Youth-produced films from her classes have been awarded many honors including inclusion in the Human Rights Watch Film Festival, San Diego Latino Film Festival, Red Nation Film Festival, Hampton Film Festival and Adobe Design Achievement Awards. She has been featured on Univision, TV Azteca, KUSI, SD Insider, KPBS, NPR, Radio Hispana as well as in San Diego City Beat, San Diego Reader and the U-T San Diego.
Jodi's list of accomplishments is as extensive as it is unique. Originally from Vermont and the daughter of a maple farmer, she settled in San Diego in 1999 after graduating from college. 13 years later, she owns her own video production company, VideologiCo. She has produced and directed a zombie movie, a vampire short, and is currently producing several short films with supernatural themes. She has always had passion for working with youth and has taught video production courses for over eight years and currently teaches at the Media Arts Center San Diego and Platt College. In addition, Jodi spent nine years working at Toussaint Academy of the Arts and Science- a long term shelter for homeless and runaway teens. She has worked and lived on both sides of the border, teaching bilingual video production classes and producing dozens of short documentaries that explore social justice themes such as illegal immigration, tenant's rights, safety and health in impoverished communities and the struggles of undocumented youth in the US. Jodi is one of the founding members of the San Diego Student Film Festival and will be directing the festival this year.
Look out for casting and crew calls, workshops and plethora of strong work coming out of the Video & Editing program this year at UC San Diego Extension. "I'm really excited to continue my work building the San Diego film community and helping facilitate more opportunities for filmmakers, cast members, and crew here. With this new position at UC San Diego Extension Digital Arts Center, I will bring all of my passion, excitement and contacts into the video production school that already exists there."
Those interested in learning more about the career focused programs in Casual Game Development, Graphic and Web Design, Mobile Application Development, and Video & Editing; Digital Arts Specialized Certificates, courses, and workshops; or otherwise learning what's happening at UC San Diego Extension's Digital Arts Center should visit http://extension.ucsd.edu/digitalarts or join the DAC Facebook page or view the DAC You Tube Channel. Questions? Contact a program rep at dac(at)ucsd.edu or call 858.534.6705.
About UC San Diego Extension (extension.ucsd.edu )
UC San Diego Extension is a division of the university's Extended Studies & Public Programs, offering 100+ professional and specialized certificate programs in a variety of disciplines. Nearly 50,000 adult learners attend classes each year at its facilities on the UCSD La Jolla campus, the University City Center, and the Mission Valley Center.