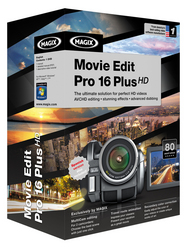 this makes Movie Edit Pro the first consumer level product to offer surround sound editing.
Lanham, MD (Vocus) March 2, 2010
From home movies to professional projects, MAGIX offers award winning consumer and professional video editing software at a price point you simply can't beat. With Movie Edit Pro 16 or Video Pro X2 you can make your home videos, presentations, and even your digital photos into amazing presentations of sight and sound.
Movie Edit Pro 16
With new technological developments and a better designed user interface - Movie Edit Pro 16 answers all your video editing needs. Movie Edit Pro 16 comes equipped with AVCHD and Blu-ray export capability, for full high definition movie creation. Another feature that sets this new version apart from the competition is its sound editing abilities. "Movie Edit Pro 16 comes with full Dolby 5.1 Surround sound support," says Sven Kardelke, Video Product Manager at MAGIX, "this makes Movie Edit Pro the first consumer level product to offer surround sound editing."
The MAGIX team has improved many of the classic features of Movie Edit Pro while at the same time providing the ideal solution for beginners as well as ambitious users. With effortless video capture, straightforward editing, spectacular 3D effects, a large selection of titles and fades, and brilliant audio dubbing technology, users can easily burn their projects to video disc, DVD, Blu-ray Disc™, or exported it directly to the Internet. Using MAGIX's patented object oriented editing this has never been easier.
With MAGIX's innovative MultiCam editing, you have the ability to switch between two cameras in Movie Edit Pro 16. This allows for easy transfers between angles from multiple sources.
Features included in Movie Edit Pro 16:

More than 1500 special effects, cinematic transitions and templates included
Advanced audio dubbing (Dolby®Digital 5.1 mixer) and more
Full HD support for HDV and AVCHD camcorders, and much more
99 tracks, MultiCam editing, travel route animation, and much more
Video Pro X2 – The look and sound of perfect.
MAGIX entered the fray of professional video editors last year with Video Pro X, and this year, with the release of Video Pro X2, MAGIX hopes to solidify its name as a trusted source for high quality video editing products. Last year MAGIX was awarded the coveted "Product of the Year Award" from Videomaker Magazine, and hopes to have a repeat of that success with this new product! Video Pro X2 offers a wide range of professional video tools, and makes them available at a low price point.
The multiple award-winning video workstation offers an unrivaled range of powerful editing tools and sophisticated virtual equipment for detailed audio dubbing. Optimized workflow layout and unique performance tools guarantee precise editing that will turn your vision into a reality. State-of-the-art digital technology, innovative functions, and the accumulation of years of expert experience in the field of video and audio combine to guarantee professional results in perfect sound and vision.
Features included in Video Pro X2:

Output to AVCHD discs with animated menus and high-quality multi-channel audio
Dolby®Digital 5.1 Surround sound lets you create true surround sound with Dolby®Digital 5.1 Creator and mix it live with the audio mixer
Create Blu-ray Discs with animated menus and 6-channel PCM surround sound
Object oriented timeline editing, no need to convert the files before importing them into a project
Professional sound editing and re-mastering
9 camera multi-cam editing
As always, MAGIX offers all its innovations as a free 30 day trial download. To obtain a review copy, or to inquire about any of our consumer and professional lines of products please contact:
Adam Zarboni
MAGIX AG
PR & Communications Manager, North America
One Valleywood Drive, Suite 302
Markham, Ontario L3R 5L9
T: +1 (905) 470-0400 x225
F: +1 (905) 470-0403
Web: http://www.magix.com
###