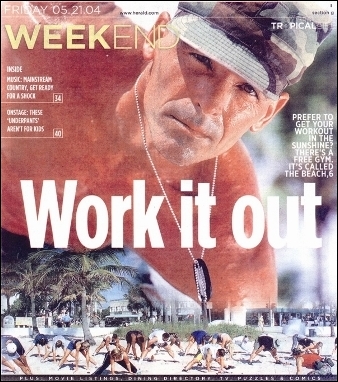 I want to show my gratitude and appreciation for all those who have contributed to the success of this video. What better way than to have a party and support our youth?
Fort Lauderdale, Florida (PRWEB) May 2, 2007
Lt. Col. Bob Weinstein, motivational speaker and beach boot camp instructor who has been featured on the History Channel is celebrating his Beach Boot Camp DVD at the ArtServe auditorium in Fort Lauderdale, Florida as a fundraiser for the Covenant House and the US Naval Sea Cadets on Friday, May 18, 2007 from 6:30 PM to 9:30 PM.
The Sea Cadets of Team Spruance and the Covenant House kids have been invited to attend this celebration. The many friends and recruits of Colonel Bob's beach boot camp classes will also be in attendance.
Asked why he decided to celebrate the completion of his first Beach Boot Camp DVD in this manner, the Colonel responded, "I want to show my gratitude and appreciation for all those who have contributed to the success of this video. What better way than to have a party and support our youth?"
Asked about why he contributes his time to the Sea Cadets and Covenant House kids Col. Weinstein responds, "I have been volunteering and working with the kids for over two years now. These kids represent our future and their own. There is no price that can be put on the investment in character building through the instilling of key life values that are timelessly beneficial to mankind."
Event Date: Friday, May 18, 2007
6:30 PM to 7:30 PM Reception with Refreshments
7:30 PM to 7:45 PM Greetings and Announcements
7:45 PM to 8:15 PM Viewing of the Video
8:15 PM to 8:30 PM Q & A
8:30 PM to 9:30 PM Fun and Mingling
Dress: Informal to Business Attire
Where: ArtServe Auditorium, 1350 East Sunrise Blvd., Fort Lauderdale, FL 33304 (Right next to the Holiday Park and in the same building as the Public Library.)
Parking: Free Parking available
RSVP by Monday, May 14th by calling 954-636-5351 or sending an email to TheHealthColonel@BeachBootCamp.net.
Guests will have the opportunity to support two great youth organizations, the Covenant House and the U.S. Naval Sea Cadets Team Spruance. There is no obligation to donate.
The Covenant House is the largest privately-funded childcare agency in the United States providing shelter and service to homeless and runaway youth. It was incorporated in New York City in 1972 and has since expanded in the United States to Anchorage, Atlanta, Atlantic City, Detroit, Fort Lauderdale, Houston, Los Angeles, Newark, New Orleans, Oakland, Orlando, Philadelphia, St. Louis, Washington, D. C., and, outside the United States, to Toronto, Vancouver, Guatemala, Honduras, Mexico and Nicaragua.
For more info: http://www.covenanthouse.org/
For more info on the Covenant House go to http://www.covenanthouse.org
The United States Naval Sea Cadet Corp's Team Spruance is the finest youth development program for boys and girls ages 11 - 17 available in South Florida. The program and staff's goal is to help teens and pre-teens develop skills, self-esteem and confidence that will help them succeed to the greatest degree possible for each individual in school and life. Team Spruance receives it's primary support from the Fort Lauderdale Council of the Navy League of the United States, as well as contributions from many area businesses and individuals.
For more on the Sea Cadets go to http://www.flseacadets.org.
ArtServe is providing the event location.
ArtServe is dedicated to serving the business and administrative needs of artists and nonprofit organizations in Broward County, South Florida.
More on ArtServe: http://www.artserve.org
About the Health Colonel, Lt. Col. Weinstein, http://www.TheHealthColonel.com
Lt. Col. Weinstein was born in Washington, D.C., grew up in Virginia and spent 20 years in Berlin, Germany; he is retired from the Army Reserve as a Lieutenant Colonel with 30 years of service and spent about half of that time as a military instructor with the Command & General Staff College.
He has been featured on radio and television, among others, on the History Channel and Fox Sports Net as well as in various publications such as the Washington Times, RAZOR magazine and the Miami Herald.
His background is unique and diverse: military instructor, attorney, motivational speaker, wellness coach, certified corporate trainer, and certified personal trainer. Bob is fluent in German and English.
He specializes in a military-style workout on Fort Lauderdale Beach that incorporates strength, cardio, flexibility and agility training, both personal training and group sessions.
Bob is known as the Health Colonel and is a motivational speaker:
A sample of some of his topics:

Eight ways to get and stay fit at any age. (Order as audio book at http://www.ShopColonelBob.com)
How to organize and implement a corporate fitness boot camp program.
How to eat for performance and energy.
Five ways to enhance performance and energy.
Six Keys to Permanent Weight Loss (Order as audio book at http://www.ShopColonelBob.com)
He is a member of the National Speakers Association and the Florida Speakers Association. You can find out more about his programs at http://www.NoMoreCryBabies.com.
He is also presently writing a book on personal development, health and fitness.
His burning desire is to help others lead healthier and happier lives and reduce some of the preventable health-related suffering and deaths caused by an unhealthy lifestyle.
Some of Colonel Bob's clients as a speaker: Sony, DHL, American Express, KPMG, AOL Latin America, IBM, AARP, SmithBarney and Humana.
###