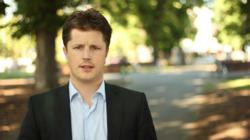 You don't need to be talking for the entire camera shot. You can just speak one point at a time. Then take a break to gain composure for your next speaking point. What we'll do when you give us the file is edit out those breaks in between
Melbourne, Au (PRWEB) November 28, 2012
The founder of The Multimedia Marketing Show, Jake Hower, releases a short video on using the Zoom H1 device to improve sound quality in videos and on submitting raw video footage.
There are several ways a user can leverage the Zoom H1 to improve the sound quality of his or her videos.
"You can hold it underneath a frame, as I'm doing here. It provides much better audio," said Mr. Hower.
"You can also mount it on top of the camera, and use it almost like a boom mike or a shotgun mike," he continued.
Users can also use the Zoom H1 as a USB microphone on their laptops. They can buy an accessory pack with a stand for the Zoom H1 to sit on.
"You can mount it on a stand for your podcasts and interviews," said Mr. Hower.
Hower also gives some advice to clients on using the Zoom H1 for their video submissions to VideoEditz.
"One thing I'd suggest you do is keep the audio in your camera shooting at the same time if you're using one of these. That way when you provide the two files to us, we can easily match this audio against the camera audio and replace it. This little thing provides much better audio clarity," said Mr. Hower.
After the audio tips, Hower gives tips to clients on shooting their video to submit to VideoEditz.
He suggests that clients shoot their raw footage in one take and submit the entire thing as one file to VideoEditz.
"It makes it easiest to edit. You don't need to be talking for the entire camera shot. You can just speak one point at a time. Then take a break to gain composure for your next speaking point. What we'll do when you give us the file is edit out those breaks in between," explained Mr. Hower.
Business owners interested in more tips on making their video footage easy-to-edit can head across to http://multimediamarketingshow.com/ where they can subscribe via email to receive all tips and a weekly podcast with expert guests.