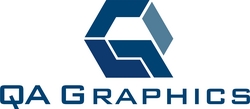 Expanding our solutions allows us to provide customers with a total design solution and sales tools that they can rely on.
Ankeny, Iowa (Vocus) March 4, 2010
QA Graphics, an interactive design company, is pleased to announce the expansion of their interactive division to include multimedia capabilities.
To offer customers a total design solution, QA Graphics has expanded their services to provide a variety of multimedia solutions including motion graphics, visual effects, professional video animations and interactive displays which can be utilized as sales tools for company branding, education/training, and a way to accurately represent products and services. Organizations can look to QA Graphics for a variety of affordable media solutions that can be integrated into their current marketing strategies. Using the latest technologies, QA Graphics' design team brings organizations' offerings to life with high-end graphics, animations and voice-over capabilities.
The company offers a wide portfolio of interactive development services, and has expanded this to include multimedia solutions based on customer-driven needs. "We already provide a wide range of design services including custom 3D design and animations, web development and graphical user interfaces," said Dan McCarty, president of QA Graphics. "Expanding our solutions allows us to provide customers with a total design solution and sales tools that they can rely on."
These services provide professional sales tools that can be used at tradeshows, for presentations, and on company websites. A variety of solutions include:

Corporate identity
Promotional brochures
Sales tools
Tradeshows
Educational videos
Product demonstrations
Training
Virtual walk-throughs
A large portion of QA Graphics' projects are developed for organizations in the construction and building automation industry, providing graphic outsourcing, drafting services, accurate modeling of equipment and more. A current client, McQuay International, has utilized QA Graphics' multimedia services to develop videos which they use as sales tools to provide their customers with information and an accurate representation of their HVAC equipment.
"My experience working with QA Graphics was overall very positive," said Rita Sauer, marketing communications manager at McQuay International, a member of DAIKIN group. "QA Graphics came up with creative ideas, responded in a timely manner, and the quality of the final video was great. Working together we were able to make mechanical concepts easy to visualize and understandable."
About QA Graphics
QA Graphics is an innovative computer graphic development company specializing in the building automation and building design industries. The company is an industry leader in the design of graphical user interfaces (GUI) and energy efficiency education, offering custom graphic design solutions including graphic outsourcing, 3D design/animation, interactive content, multimedia solutions and full-service Web site development. Please visit http://www.qagraphics.com to learn more.
###