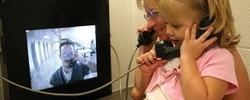 Product development is a continuous process here at Renovo and we have to be cognizant of the needs of our customers and prospects during the development process.
Minneapolis, MN (PRWEB) April 20, 2011
Renovo Software, a leading provider of visitation management solutions for the corrections market, released today the latest version of its correctional facility visitation management solution, VisManager 5.0. With more than 7,000 visitation stations and over 70 correctional facilities using VisManager to manage, schedule, and automate their video, internet, and face-to-face visitations, Renovo Software is now the largest video visitation software provider in the world.
With VisManager 5.0 Renovo is responding to over 100 feature and enhancement requests by their customers and prospects. Ultimately, the goal was to make VisManager even more configurable for correctional facilities. Brian Peters, Product and Marketing Manager of Renovo Software, explained, "VisManager 5.0 takes a big step toward ensuring that as visitation policies and methods change and as facilities have to do more with less resources, we are able to meet the needs of all our customers."
VisPay 1.0 – Revenue Generation Module
VisPay is a new module that allows facilities to charge for visits as they see fit. Many states and counties have minimum visitation quotas that are easily fulfilled once VisManager is implemented. VisPay helps correctional facilities' visitation environments become more efficient which enables inmates the option to purchase additional visits.
"Our customers found that once they deployed our scheduling platform, they became so efficient that they had excess visitation capacity throughout the day," explained Peters. "Our customers saw this as an opportunity for them to charge for those open visitation slots and help generate much needed revenue for their facility."
VisPay allows facilities to set up specific fee based visitation times and/or visitation centers. In addition, facilities can allow an inmate to have fee based visits after their initial free visits have been used. Visitors can register, schedule, and pay for a visit through a secured website – eliminating the need to add staff.
VisWarrant 1.0 – Visitor Warrant Check Module
VisWarrant is another new module that allows facilities to manually and/or automatically export visitor registration information to be used for national and local warrant check systems. Results of the checks can then be imported into the system, allowing the facilities to be notified if a visitor with an upcoming visit has an outstanding warrant.
Once warrant check results are imported into VisManager, VisWarrant enables facilities to pull reports showing all the incoming visitors with a positive warrant check result. In addition, during check-in, visitation clerks are notified that a particular visitor has a warrant out for their arrest. Peters stated, "We believe this module will ultimately keep our customers' visitation centers more safe, going beyond its functionality of assisting facilities in apprehending individuals with warrants."
Looking Forward
Renovo is already developing the next version of VisManager – continuing the trend of enhancing the user interface while extending the definition of what a visitation management system should be. Peters concluded, "Product development is a continuous process here at Renovo and we have to be cognizant of the needs of our customers and prospects during the development process. The corrections industry is becoming more demanding of vendors of high tech systems and we want to continue to add greater value to the VisManager product line."
About Renovo
Renovo Software is a leading developer of software solutions for the video communications industry. Renovo designs, develops and supports software solutions that schedule, automate and manage complex video networks. Applications include video visitation, courtroom arraignment, distance learning, telemedicine and business videoconferencing. For more information visit http://www.renovosoftware.com.
# # #