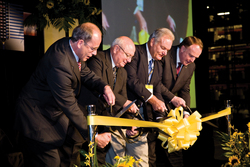 We have three reasons to celebrate. Our 110-year global presence in Germany, our 10-years in North America and today's grand opening
McPherson, Kan. (Vocus) April 29, 2009
Nearly a thousand industry partners, government officials and Viega personnel gathered on Tuesday, April 21, for the official grand opening of Viega's 439,000 square-foot Manufacturing and Distribution Center. "Today, we unlock here in McPherson, another door to the future," said Viega co-owner Walter Viegener.
The event kicked off in grand style at 10:00 a.m. where Viega CEO, Dan Schmierer, welcomed guests. "This facility represents Viega's commitment to the plumbing and heating industry" said Schmierer. While the housing market is not favorable now, Viega is confident the housing market will soon recover. Joining CEO Dan Schmierer on stage were also Viega owners, Heinz-Bernd Viegener, Walter Viegener, and newly-elected McPherson Mayor Tom Brown. "We have three reasons to celebrate. Our 110-year global presence in Germany, our 10-years in North America and today's grand opening," said Viega co-owner Heinz-Bernd Viegener.
Viega GmbH & Co. KG (Viega), headq uartered in Attendorn, Germany, has been providing plumbing and heating solutions to builders, contractors and wholesalers for 110 years. Viega is a family owned business which employs 500 employees in North America and approximately 2,800 people world-wide. Approximately 210 of Viega's North American employees work at the new facility in McPherson.
Presentations concluded with a ribbon-cutting ceremony, plant tours and a Kansas BBQ lunch complete with 12 oz. ribeye steaks and a cake spanning 3 feet by 5 feet, which resembled the enormous facility. The Manufacturing and Distribution Center spans 11-acres, which equates to nearly 10 football fields under one roof.
Equipped with extrusion and injection molding machines, logistics and office space, the new facility and the state-of-the art equipment it employs, will help streamline operations, improve efficiency and provide Viega employees the space to start developing new products. Soon, 22 states throughout the Midwest will receive all Viega products from this location.
When co-owner Heinz-Bernd Viegener was asked if he would have invested in this large of a facility if he had known the housing industry was about to collapse, Mr. Viegener quickly responded, "Yes. Viega has remained a family owned company for 110-years. Long term thinking and employee interests have always been more important than short termed financial figures. The money earned during the good times is to remain in the company and be used for future oriented investments." When the housing market turns around, this new facility will enable Viega to easily meet the demands of the rebounding housing industry.
About Viega:
For 110 years, Viega (http://www.viega.net/) has been manufacturing and supplying the highest quality plumbing and heating products in the world. In 2006, the company moved its North American headquarters to Wichita, Kan. Today, Viega has opened a new 439,000-square-foot manufacturing and logistics facility in McPherson, Kan. Known for innovative offerings such as the ProPress® copper systems, ProRadiant™ heating and cooling systems, PureFlow™ plumbing systems using ViegaPEX™ tubing, and the MANABLOC® water distribution manifold, Viega is taking residential and commercial plumbing and heating to the next level.
Contacts:
Tricia Musgrave
Media Communications Specialist
877-843-4262 Ext. 203
###