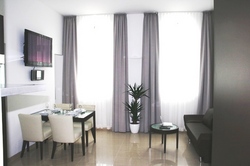 Vienna, Austria (PRWEB) July 6, 2009
Holiday apartments are quickly becoming the most popular trend in travel lodging, economic tightening further leading people away from hotels. Unlike a hostel, guests can have their own bed, appliances, bathroom and other amenities in a holiday apartment, all while paying a very reasonable price.
Lifestyle Apartments Vienna is a leader in this new trend. It features four luxury apartments just a few minutes away from the Schoenbrunn Palace and the Vienna Zoo. Each apartment houses up to four people. Prices are from 59-110 Euro for 4 Persons and stays can be as short as two days or as long as six months.
Renting a holiday apartment in Vienna from govienna.net, you can take day trips to other parts of Austria and even to nearby countries. Or you can enjoy the great choice of activities around Vienna itself.
During the summer of 2009 there are many great concerts in Vienna including those by Robin Gibb, The Eagles and Bruce Springsteen.Bruce Springsteen will be performing on July 5 as part of his "Working on A Dream" tour at the Ernst Happel Stadion.
Lifestyle Apartments have natural stone tile floors and cooled ceilings for draft-free comfort in the summer. The bathroom is large and luxurious with a glass shower. The kitchen and furniture are designer-made. The apartment includes two flat-screen TV's with cable access and DVD player. Also there is free W-Lan access. The apartments are fully-furnished including linen. Lifestyle Apartments Vienna are a great alternative to other types of accommodation especially for travelers who plan an extended stay in the country.
The best way to start your exploration of Vienna is to visit govienna.net. Visitors can take a virtual tour of Lifestyle Apartments Vienna and see multiple views of most rooms. The interactive map shows the location of the apartments and of popular attractions. The site also features information about the city. Reservations can be booked online, so it's easy to get started on exploration of life in Vienna.
© Lifestyle Apartments Vienna - govienna.net
###