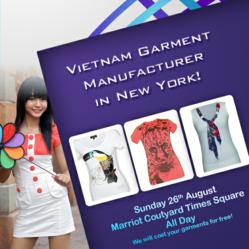 Labor cost in China are rising so fast that companies are looking closely at Vietnam as the next best option.
New York City, New York (PRWEB) July 25, 2012
The Thai Son S.P. team of garment merchandisers is coming to the Big Apple to quote prices for clothing designers. The Thai Son S.P. sewing factory has been manufacturing knit garments in Vietnam for 15 years. Their experience allows them to know the costs of fabrics, trims, accessories and prints in Viet Nam. Thai Son's team speaks English well and has their calculators ready to explain the cost breakdown of garments made with knit fabric.
Thai Son S.P. Vietnam Garment Factory in New York will have examples of garments produced in Ho Chi Minh City to demonstrate the fit, design, workmanship and price Viet Nam can achieve. Thai Son will study any samples submitted by clothes designers and explain the price of manufacturing knit garments in Vietnam. Thai Son has fabric swatches of multi-blend fabrics that are cutting edge developments as well as examples of recently produced prints like metallic print, glitter print and gradient print. Thai Son has examples of both mixed and blended fabrics like cotton-rayon, polyester-modal-cotton or cotton-spandex.
Thai Son's 200 sewers produce 250,000 pcs per month and the factory has extra capacity to work with new customers since - business is slow in Vietnam which presents great opportunities for buyers. After exhibiting at the "Sourcing at Magic" show in Vegas, Thai Son's merchandising team is traveling to NYC to meet with existing and new customers. This year, Thai Son S.P. factory has been buying yarn themselves and managing the knitting and dyeing process to remain price competitive without sacrificing quality. In the past Thai Son bought finished fabric from China but now China's prices are not competitive. Thai Son has the sewing man-power and drive to stay competitive!
Thai Son S.P. Vietnam Garment Factory will be in New York from the 24th till the 29th of August. The team will meet with clothes designers and sourcing managers from 7 am until 10 pm. Thai Son is meeting at the Marriot Courtyard Times Square, 114 West 40th Street, Phone: +84 942324935.