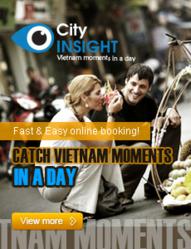 A promotion of 10% - 15% discount off its must-be rates has been announced for many Vietnam day tours at CityInsight.vn!
Hanoi, Vietnam (PRWEB) April 11, 2013
On the occasion of launching the website with brand new Vietnam day tours, CityInsight.vn has recently offered a special program named "BEST RATE EVER" for many exciting day trips in five big cities of Vietnam, including Hanoi, Ho Chi Minh City, Hoi An, and Hue.
The favor program lasts until the end of April, 2013. During this period, clients are offered chances to book Vietnam day tours with favorable prices at CityInsight.vn. The promotion offers are applicable for most of the tours presented on the website. The discount amount is up to 10 - 15% off the tours' must-be rates. For detailed information, visit: cityinsight.vn/special_tours
The tour programs provided are tailor-made for those who wish to explore the beauty of Vietnam in only one day. All the itineraries available are for one-day or half-day tours which aim to make it easier for clients to arrange their time and make a decision.
The day tour programs range from Northern cities to Southern ones (including Hanoi capital, Hue Ancient Capital, Hoi An city, Nha Trang coastal city, and Ho Chi Minh city), are categorized into different themes, including Culture, History, Cuisine, Traditional Handicraft, Art & Architecture and Natural Beauty. Hence, clients can easily find out which day tour itinerary best fitted for their time in Vietnam. For details of all Vietnam city tours, visit: cityinsight.vn/vietnam-day-tours
Visit Cityinsight.vn to get the full list of City tours in Vietnam available for this special promotion offer. As the website is recently launched, any feedback or comments is always welcome. Feedbacks and/or questions about any aspect of Vietnam day trips, Vietnam tourism information and Vietnam cultural stories can be sent via email to support(at)cityinsight(dot)vn.
About CityInsight.vn
Operated by Vietnam Discovery Travel Jsc., CityInsight.vn has been developed to provide travelers memorable moments with various day tours in Vietnam. The tours are specially designed for those who have limited time in Vietnam. Specializing in private day tours for visiting landmarks of the cities and other places of interest around, CityInsight.vn has received positive feedbacks from clients and partners for the professionalism and quality of travel services offered.