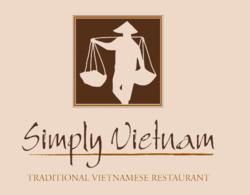 We at Simply Vietnam can keep in touch with our customers
Santa Rosa, CA (PRWEB) October 06, 2011
Simply Vietnam Vietnamese Restaurant Santa Rosa, provides delectable and authentic Vietnamese cuisine. They are also a highly respected and recommended Vietnamese restaurant, which is proven by their positive reviews and high scores on Yelp! and urbanspoon, two popular internet sites that rate restaurants across the country through customer reviews.
Simply Vietnam Vietnamese Restaurant received a four-star rating on yelp.com based on more than 130 reviews. Meanwhile, urbanspoon.com gave the restaurant a 94 percent rating and was voted # 80 on a list of the top 100 restaurants in the Bay Area.
"We at Simply Vietnam can keep in touch with our customers," said Andrew Nguyen, manager of Simply Vietnam. "This type of feedback is great. It really helps us make adjustments on the floor and in the kitchen, creating a better dining experience."
Featuring a menu inspired by the many traditions of South East Asia, Santa Rosa Vietnamese food, Simply Vietnam offers a tremendous selection of local and regional favorites at reasonable prices. Their traditional Vietnamese restaurant is sure to please everyone's taste buds. Step inside their restaurant and be transported into the traditions and culture of Vietnam. Their menu includes a wide range of items that will please almost any palate.
"We love our customer feedback. We spend a lot of time reading and responding to the comments, encouraging us to provide a better dining experience for all," Andrew added. "Sites like Yelp! and urbanspoon are great tools for customers and business owners alike."
For more information on Santa Rosa food take out restaurant, Simply Vietnam, contact them at (707) 566-8910. Visit them at 966 North Dutton Ave. Santa Rosa, CA 95401 or on their website at http://www.simply-vietnam.com.
About Simply Vietnam Vietnamese Restaurant
Simply Vietnam provides delicious authentic Vietnamese food. Check out their menu for a list of their delectable cuisine. In addition to serving fantastic and genuine Vietnamese food, the restaurant is the perfect place for birthday, graduation parties and other private functions. They provide for the perfect taste and quick service to allow for an evening in with food take out.
###