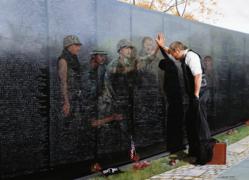 Cumberland, Maryland (PRWEB) October 27, 2011
Choosing a gift for a friend or family member who served in the military can be challenging. Recognizing someone's previous service does not just have to happen on Veterans Day. Christmas is another perfect occasion to let the veteran know that you haven't forgotten their service. The Reflections print by Lee Teter is a wonderful gift idea.
In 1988, several members of Vietnam Veterans of America Chapter 172 and emerging realist painter Lee Teter came together around a kitchen table with an inspirational idea. As a result of those discussions, the painting "Reflections" emerged.
Lee Teter paints with remarkable accuracy, and in this case, he depicted panels 29 and 30 East of the Vietnam Wall. Many names can be seen in their actual position on the Wall.
The images of servicemen reflected in the Wall and their comrade were created with live models using a full length glass panel in Teter's studio.
The live models were actual Chapter 172 members Jim Williams, Dave Arnold, Jane Bass, Mike Thompson, Bill Custer and Dale Layton. Micki Banks, a veteran who lost his life in Vietnam is also depicted from a family photo. Williams, now painted in business attire, was originally sketched in fatigues but was later changed to reflect a more universal image of surviving veterans.
The "Reflections" print is an open edition with an image size of 26" x 19" printed in high resolution using permanent ink on archive quality acid free paper.
All proceeds from the sale of the print benefit the Vietnam Veterans of America Chapter 172
For more information, please contact:
Vietnam Veterans of America Chapter 172
17 N Liberty Street
Cumberland, Maryland 21502
1-877-731-7444
http://www.vietnamreflections.com
###