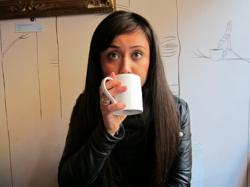 "I am excited to work and collaborate with such accomplished and impressive individuals, they bring important experience and awesome energy to the team" Ori Guttin, Co-Founder
San Diego, Ca (PRWEB) October 08, 2012
ViewBug, where photographers can participate in photo contests with the coolest brands and awesome judges, has named Fiona Miller and Erik Bjornard to its' Board of Advisors. As advisors, they will help ViewBug in providing photographers one of the top communities for photo contests on the web.
Fiona Miller is a digital marketing and online community professional with global experience in community-driven products, brand and product marketing. Fiona previously served as Flickr's Brand Marketing Manager and Product Marketing Manager. She was responsible for Go-To-Market strategy, marketing, PR and monetization initiatives and for defining brand positioning, management of Flickr's brand in partner activity, creating tailored, innovative programs to exploit Flickr's core assets – community, editorial, brand and technology to create global awareness.
"I am excited to work and collaborate with such accomplished and impressive individuals, they bring important experience and awesome energy to the team" said Ori Guttin, co-founder of ViewBug. "I can't wait to see all that we will accomplish in the near future".
Erik Bjornard is passionate about and an expert at new business development, marketing, brand development and product positioning. Erik served as the Vice President of Marketing for Animoto Productions where we was the 8th employee and helped Animoto become cash-flow-positive and grow from 350,000 to 4,500,000 users.
More About ViewBug:
ViewBug is an online photo contest community that provides the opportunity for photographers to share photos with chances to win prizes. With ViewBug, everyone can get an opportunity to be discovered. Unlike other photography competitions, ViewBug makes the photography contests fun and social by providing prizes by the best brands in the industry and including the most influential photographers as judges. Participants can also help judges select winners with a social media voting tool. ViewBug provides a slick profile to showcase your photos and different memberships to accommodate any type of photographer. A fast-growing company, ViewBug is based in San Diego with business development partners in Las Vegas and San Francisco.