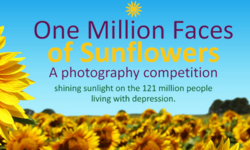 ViewBug and Field of hopes believe in the power of photography to improve people's lifes
San Diego, CA (PRWEB) July 24, 2012
"Flowers have an expression of countenance, as much as men and animals. Some seem to smile, some have a sad expression" -Harriet Beecher Stowe. ViewBug has announced a new photography contest, "1 Million Faces of Sunflowers," to show the beauty, happiness, and uniqueness of the Sunflower.
ViewBug, a top sharing, photography contest and social networking photography site has partnered with Field for Hope, a non-profit organization helping people with depression, to help shed light on the 121 million suffering from the condition. Field for Hope's mission is to eradicate the stigma of depression and show that it is 100% treatable. Every dollar donated equals 1 seed to help an online hotline, healing gardens, international support groups and more. This contest strives to help create awareness of their mission and give hope to those that are growing.
Michelle Tricca, an award winning portrait and lifestyle photographer, will be judging the contest.
(http://www.michelletricca.com) The first place winner will receive an iPod Shuffle and a $100 iTunes Gift Card, a professional Tripod, exposure through exhibitions and ViewBug, and a year of ViewBug PRO. The winner of the people's choice award receives a year subscription of ViewBug PRO. Voting takes place September 2, 2012 through September 14, 2012.
About ViewBug:
ViewBug is an online photo contest community that provides the opportunity for photographers to share photos with chances to win prizes. With ViewBug, everyone can get an opportunity to be discovered. Unlike other photography competitions, ViewBug makes the photography contests fun and social by providing prizes by the best brands in the industry and including the most influential photographers as judges. Participants can also help judges select winners with a social media voting tool. ViewBug provides a slick profile to showcase your photos and different memberships to accommodate any type of photographer. A fast-growing company, ViewBug is based in San Diego with business development partners in Las Vegas and San Francisco.
To donate to Fields of Hope please visit their website at http://www.fieldforhope.org