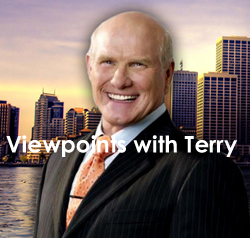 We are pleased to bring this segment to the audience as it is foremost on the minds of both employers and employees.
Coral Springs, FL (PRWEB) May 31, 2013
The producers of Viewpoints TV are pleased to present a segment focusing on mobile workforce solutions in June. This industry continues to emerge in the wake of the BYOD or bring-your-own-device movement where employees use their own digital devices to work and access company apps and files. As both employer and employee work out who should provide protection on the laptops, tablets and smart phones, proponents of BYOD continue to find innovative ways to conduct business. The informative cable television program takes a closer look at what is ahead in mobile workforce solutions.
The show host is Terry Bradshaw, a Hall of Fame quarterback from the Pittsburgh Steelers. His popularity began on the football field while leading the legendary team to four Super Bowl titles and picking up two Super Bowl MVP awards. Terry is just as popular now as he was then. From the locker room to the board room, he has become a valuable commodity in corporate America. He is a favorite motivational speaker and an often-requested celebrity for endorsing companies and their products. His well-known outgoing personality and credibility are key factors in his continuing celebrity. Throw in some cameo appearances in a few major motion pictures and close to a hundred appearances on the Jay Leno show, and the reason is clear why Terry Bradshaw is a great host and segment narrator for the Viewpoints TV show.
The program explores many topics in different fields such as education, the environment, and healthcare. It features stories of interest to viewers of any age and educates the audience about fascinating new technologies. The show films on location throughout the United States and Canada, and is broadcast on regional and national cable television networks. Please visit Viewpoints TV on Facebook and Twitter for more information or to post a note to our host and staff.