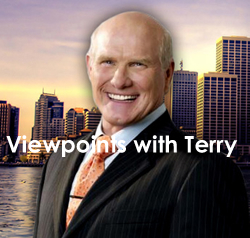 We want to shed some light on the topic of retirement and let the audience know that there is something they can do to have a good life after work.
Coral Springs, FL (PRWEB) May 23, 2013
The Viewpoints with Terry Bradshaw show presents a segment about redefining retirement. Many Americans are facing a dim life after work ends. A Pew Charitable Trust report recently stated the Late Boomers -- those born after 1955 -- carry more debt, have higher mortgages and are in deep credit card debt. But all hope for The Golden Years is not lost. The program brings information to the viewer about how to reduce debt and keep earning after reaching the retirement age of 67, while still enjoying some aspects of retirement.
The show host is Terry Bradshaw, a Hall of Fame quarterback from the Pittsburgh Steelers. His popularity began on the football field while leading the legendary team to four Super Bowl titles and picking up two Super Bowl MVP awards. Terry is just as popular now as he was then. From the locker room to the board room, he has become a valuable commodity in corporate America. He is a favorite motivational speaker and an often- requested celebrity for endorsing companies and their products. His well-known outgoing personality and credibility are key factors in his continuing celebrity. Throw in some cameo appearances in a few major motion pictures and close to a hundred appearances on the Jay Leno show, and the reason is clear why Terry Bradshaw is a great host and segment narrator for the Viewpoints TV show.
The program explores many topics in different fields such as education, home, lifestyle and explores the subjects facing most people today. It features stories of interest to viewers of any age and educates the audience about fascinating new technologies. The show films on location throughout the United States and Canada, and is broadcast on regional and national cable television networks. Please visit Viewpoints on Facebook and Twitter for more information or to post a note to our host and staff.