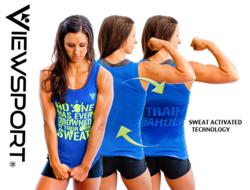 It takes 4-8 weeks for you to see results from your workout. ViewSPORT sweat activated fitness apparel provides you with almost instant gratification that you are on the right path.
(PRWEB) April 25, 2013
The most popular workout devices of 2013 include activity tracking wristbands and mobile apps monitoring food intake, according to USA Today's March 2013 Surf Report, 'Best fitness gadgets and apps.' For those who prefer a visual result from their workout, ViewSPORT has created innovative fitness apparel using sweat-activated technology to reveal designs or phrases as the workout progresses.
Motivational words or images appear on the clothing as it becomes wet. The impetus behind this type of athletic apparel is the clearer the image becomes, the better the workout. One of the shirts reads 'Beast Mode' on the front, and as the athlete perspires, 'I Am a Beast' is revealed on the back.
According to Ben Wood, inventor of the technology, "Everyone needs that extra push, that psychological boost that will help them get through their workout. To get in shape for summer, you need any motivation you can get, and ViewSPORT will help you get that boost and the results you want."
Sweat-activated technology provides a visual indicator of hard work. Results take time, but seeing the image appear after a good workout means instant gratification; it lets the person know that he/she is on the path to getting in great shape.
For more information, visit http://www.viewsport.us.
About ViewSPORT® International Inc.
ViewSPORT's mission is to help motivate people to live healthier and more active lives by providing a fun way to visibly measure their hard work. ViewSPORT's fitness apparel utilizes sweat-activated technology to inspire athletes to train harder.
For press inquiries: pr(at)viewsport(dot)us
For custom order inquiries: orders(at)viewsport(dot)us