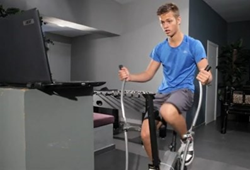 Already dubbed as the "most exciting tech project on Kickstarter since the Oculus Rift"!
(PRWEB) June 30, 2014
Want to stay fit but dread the monotony of exercise routines? The VIGATAR gets users "addicted" to working out by letting them control videogames with their body movements: pedal faster to accelerate, push one handlebar and pull the other to turn, pump both arms inwards to shoot, and so on. Lots of PC-based games can be played: racing games, flight simulators, and first-person shooter-games etc.
Today, the VIGATAR has been launched on Kickstarter. The campaign will last for 60 days; however, only "early bird" backers will get up to 60% off the RRP, so for those interested in ordering one, it makes sense to pledge as soon as possible. You can see the Kickstarter project page here.
Additional information
The VIGATAR is a gym-machine that makes exercising more fun and less boring by doubling as a controller for video games. It combines a stationary bike with independent handlebars; physical movements are translated to actions within the game: accelerate by pedaling faster, turn by pulling one handlebar and pushing the other, shoot by pumping both handlebars inwards simultaneously, and so on. Lots of PC video games can be played, from old favorites such as Pacman and Space Invaders up to racing games, flight simulators and first-person shooter-games.
Full Body
The VIGATAR offers a full body workout: the cycling movement incites cardiovascular exercise while moving the handlebars trains the arms, chest and core body muscles.
For Teenagers and Adults
Since both the mechanical resistance and the saddle height can be regulated, the VIGATAR is suitable for a large range of people, from young teenagers up to large adults.
Parents who worry about their children becoming couch potatoes can now tell their kids to "play as much videogames as they want… as long as they do so using this new controller!"
Stay Motivated
Many people exercise because they want to stay fit, but dread the monotony of their workout routine. By replacing their treadmill or trainer with the VIGATAR, they can select their favourite game and push, pull, pump & pedal their way to victory, getting so immersed in their game that they forget how tired they are. One can imagine the success of their exercise results if they spend their day longing for their next workout instead of dreading it.
For more information please contact Herman Rijks:
Email: info(at)vigatar(dot)com
Telephone: +34 65 79 79 799
Skype: hermanrijks (or send an email to arrange a Skype call)
http://www.vigatar.com
http://www.facebook.com/vigatar
(In case the Kickstarter link in this document is deactivated you can see it by surfing to http://www.vigatar.com and click on the Kickstarter link or manually type http://kck.st/1q6gFiP.