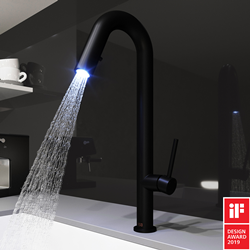 The Oakhurst LED Kitchen Faucet, with its white-light LED illumination, epitomizes class and innovation. Energy-efficient, the bright LED light is powered by renewable mechanical energy derived from the water stream's pressure, eliminating the need for wasteful batteries.
NEW YORK (PRWEB) April 18, 2019
VIGO was a winner of the 2019 iF DESIGN AWARD, a world-renowned design prize. The winning product, VIGO's Oakhurst LED Pull-Down Kitchen Faucet, won in Kitchen Faucets category for its exceptional attention to detail, design, and functionality. Each year, the world's oldest independent design organization, Hannover-based iF International Forum Design GmbH, organizes the iF DESIGN AWARD to provide consumers and users with a symbol they can trust while celebrating designers and manufacturers.
The Oakhurst LED Faucet won over the 67-member jury, made up of independent experts from all over the world, with its white LED-illuminated spout head technology. The competition was intense: over 6,400 entries were submitted from 50 countries in hopes of receiving the seal of quality.
The winner, the VIGO Oakhurst LED Pull-Down Kitchen Faucet, is a truly one-of-a-kind design. Not just aesthetically beautiful, the Oakhurst features an easy-to-use single lever that operates both the water and temperature controls. The Oakhurst's shining feature, however, is its integrated LED white light that illuminates the water flow while the faucet is in use. Energy efficient and elegant, this faucet transforms the kitchen sink and faucet experience. With a powerful spray, a 360° swivel spout, and a 25-inch retractable nylon braided hose, the Oakhurst deserves all the praise in the world.
More information about the VIGO Oakhurst, as well as details about additional kitchen faucets, can be found on VIGO's website.
About VIGO
Since its inception in 2009, VIGO has remained committed to providing The Ideal Everyday for all customers. Based in New York City, VIGO was named one of Inc. 5000's Fastest Growing Private Companies in America. VIGO produces innovative kitchen, bathroom, and shower designs that are not only visually stunning but also optimally functional. By producing high-tech, ergonomically-friendly products, VIGO continuously exceeds environmental and quality standards. Under the guidance and design of founder/CEO Lenny Valdberg, VIGO's acute attention to detail consistently results in the production of remarkably designed, high-quality products. With a dedication to providing top-notch customer service, VIGO helps consumers live better every day in every way.
Media contact:
Anna Blinova
Art Director
ablinova(at)vigoindustries(dot)com
Website | Instagram | Facebook | Pinterest | Twitter | LinkedIn | Google | Yelp | Blog