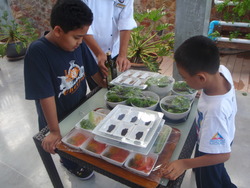 The cooking class was a lot of fun and Chef Jonny was also funny. I enjoyed making the vegetarian dishes with my parents helping me. We ate the food afterwards and it was delicious!
New York, NY (Vocus) October 1, 2010
Five students from the Malaysia Petaling Utama District were given a first-hand look into the 'greener' side of life on the Thai island of Koh Samui last week, thanks to Vijayaratnam Foundation, the Malaysian-based philanthropic arm of prominent direct selling company, QNet Malaysia.
As part of international Earth Day, Vijayaratnam Foundation and QNet Malaysia engaged the students of 45 Malaysian schools to become more environmentally aware and 'green'-focussed, with the 1 Murid 1 Pokok (One Student, One Tree) programme. The result was more than 6,000 trees being planted throughout the Petaling Jaya district.
The brainchild of the Mayor of Petaling Jaya,the 1 Murid 1 Pokok programme saw children planting one tree each, for which they will care for and nurture until they graduate from primary school.
As part of the initiative, an Earth Day art competition was won by five lucky students, who were awarded the opportunity to vacation in the dream 'green' destination of Prana Resorts & Spa, on Koh Samui, Thailand. Prana is a boutique, eco-friendly beach resort that also boasts an onsite vegetarian restaurant and hydroponic vegetable gardens. The resort was the perfect location for more first-hand experiences of nature, the environment and healthy living.
Of the five grand prize winners (Akmal Hazim bin Safri (age 7), from SK Seksyen 6 Kota Damansara; Kanageswary Selvasugumaran (age 7) from SK Sri Petaling; Muhammad Daniel Haiqal bin Bakordin (age 7) from SK (2) Petaling Jaya; Natalia Faritzbt. Sallehudin (age 7) from SK Assunta (2); and Nur Natasha Hanimbt. Azmi (age 7), also from SK Assunta (2)), Muhammad Daniel and Nur Natasha have opted to their families to the resort at a later date.
But for Akmal, Kanageswary, Natalia and their families, it was time to get up-close-and-personal with nature on their prize holiday from 24-26 September 2010. The trip, sponsored by QNet Malaysia (a subsidiary of international conglomerate the QI Group of Companies) with the facilitation of the Petaling Jaya City Council, included a variety of eco-conscious activities and lots of fun.
On their first day, the young winners learned about Prana's active role in the 'Green Island Project – Koh Samui' and its 'Low Carbon School Project' initiative, which involves contributing and working closely with school children to educate them on the three Rs – Reduce, Reuse and Recycle. Akmal, Kanageswary and Natalia are well equipped to now bring these Rs back to their homes in Malaysia.
The children also learned other aspects of eco-responsibility, such as growing hydroponic vegetables and an interactive vegetarian cooking class with Prana's highly decorated resident chef, John Goodall, to recreate some of the resort's gourmet vegetarian recipes using the resort-grown hydroponic vegetables.
"The cooking class was a lot of fun and Chef Jonny was also funny. I enjoyed making the vegetarian dishes with my parents helping me. We ate the food afterwards and it was delicious!" said Kanageswary, who also mentioned that she liked eating vegetables and will try to remember how to make the dishes again when she returned to her home in Malaysia.
After some frolicking in the resorts beach-side infinity pool, the second day of the trip saw Akmal, Kanageswary, Natalia, and their families get out-and-about in the natural splendour of the island in a full-day nature adventure tour that included a 4x4 jungle ride, elephant trekking, a visit to Bhudda's Magic Garden, and a live crocodile show.
"I really enjoyed the elephant trekking and watching the crocodile show the most," said 7-year-old Natalia.
Datin Umayal Eswaran, Chairperson of the Vijayaratnam Foundation, said the initiative was about giving children a real life experience that opened their eyes to the importance of cherishing our Earth.
"Children learn best from practical experience," said Datin Umayal. "Getting them to plant and nurture their own tree is a great way to educate them on the importance of preserving their natural heritage. The art competition is also a great incentive for the kids to express their feelings about the environment and will help spur their interest in conservation and green efforts. Vijayaratnam Foundation is happy to be part of the endeavours to bring the importance of the environment into the lives of these children."
QNet Malaysia General Manager, Mr V. Navaratnam, also commented that QNet believed both corporate sector and local government had a shared responsibility to create a healthy environment for communities to thrive.
"One way of doing this is by inculcating 'eco-responsibility' in children," said Mr Navaratnam.
About QNet Malaysia
QNet (M) SdnBhd(or QNet Malaysia), an affiliate company of the international direct selling company, QNet Ltd., was officially launched in 2008with a dream to touch and enrich the lives of the Malaysian people through quality lifestyle products and business opportunities.
Through innovative products that engender high brand loyalty and satisfaction, combined with local, on-ground support and services, QNet Malaysia has established itself as a leading Malaysian direct selling company. By offering a proven business opportunity to promote the company's products, QNet represents the potential for additional or sole income for business entrepreneurs.
For more information about QNet Malaysia, please visit http://www.qnet.net.my.
About Vijayaratnam FoundationVijayaratnam Foundation was established in April 2006 by Datuk Vijay Eswaran, Executive Chairman of the QI Group as the Malaysian Chapter of RYTHM Foundation, the philanthropic arm of the QI Group of Companies. The Foundation is a tribute to his father Mr S Vijayaratnam, to continue his legacy of philanthropic activities started over 60 years ago. The Foundation focuses on four main areas – education, community development, arts & culture, and the environment.The Vijayaratnam Foundation facilitates the inception and implementation of various initiatives and projects through its work with the public and private sectors, civil society, and the philanthropic community in Malaysia.VF has lined up various activities and constantly encourages others to join in its mission to help support the community.Please visit http://www.vf.org.my for more information on Vijayaratnam Foundation###