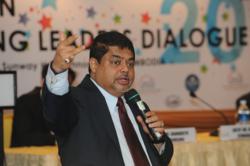 We can begin by identifying our existing educational resources in Asean and cooperate bilaterally and regionally to develop it further.
Phnom Penh, Cambodia (PRWEB) April 09, 2012
QI Group Executive Chairman, Datuk Dr. Vijay Eswaran, urged ASEAN member States to harness their strengths in education and employment as an important strategy to enhance regional competitiveness and community building.
Dr.Eswaran was speaking at the 9th Asean Leadership Forum in Phnom Penh, Cambodia, where he pointed out that the ASEAN grouping had high quality educational resources and job opportunities to offer its citizens.
"We need a common ASEAN education standard where students can continue their studies by transferring credits to a fellow ASEAN-based university and not look towards the West for high quality education. This is the way forward for the grouping," he said.
"Our Malaysian Prime Minister Datuk Seri Najib Tun Razak, in his address at the Leadership Forum, aptly argued that knowledge is the connecting thread between us and deserves the greatest impetus," pointed out Vijay.
"Thus education has to be our priority, and I urge member States to initiate concrete steps to enhance educational opportunities. We can begin by identifying our existing educational resources in ASEAN and cooperate bilaterally and regionally to develop it further."
"Being an ASEAN beneficiary myself, my contribution to this initiative is the Quest International University Perak, which the QI Group had set up in cooperation with the Perak State Government in Malaysia," said Vijay.
Following the Leadership Forum, in his keynote address at the ASEAN Young Leaders Dialogue on Friday, Vijay who spoke on Being at the forefront of ASEAN integration, Think Business said historically, everyone travelled to Asia for both trade and educational purposes.
"They crossed turbulent seas just to get to this part of the world. What drove them was trade and business. Cloves, cinnamon and spices were worth their weight in gold. This is where the spice trade begun and kingdoms flourished.
"Universities were already in place in India during the Gupta dynasty, and in Indonesia long before the hallowed Oxford and Harvard. Angkor Wat and Borobudur temples were not built without architects. And the people who built them were not Western educated either," said Vijay.
Stressing that there was already an ASEAN long before the present grouping was formalised, Vijay said:
"We have worked together for a long time when there were no boundaries. We are reconnecting now through ASEAN and this connectivity is critically important."
On employment, he pointed out that the internet is one of the last frontiers, noting that the QI Group's online foray was a case in point.
"One of our subsidiaries has built a six million strong global customer base solely on the internet platform. This is a classic example of an Asean company with offices in five Asean countries. Business has brought us together," he said.
The Asean Young Leaders Dialogue united young thinkers and emerging leaders from government, business, academic and research institutions, think tanks and NGO's to discuss the future of Asean.
About Vijay Eswaran
Vijay Eswaran is the Founder and Executive Chairman of the QI Group of Companies. A successful entrepreneur, best-selling author and highly respected speaker, he is known as a prominent thought leader in Asia. He is a strong advocate of youth development initiatives and has established a full fledged university in Malaysia. He is also recognised as a prominent philanthropist and has been named in the Forbes Asia Heroes of Philanthropy annual listing in 2011. He regularly speaks at World Economic Forum events on Asian issues and is the recipient of several awards recognizing his achievements.