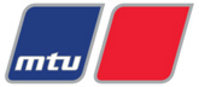 When the Series 2000 was first introduced in 1996 for the marine market, Viking was the first major boat builder to support the engine
Detroit, Mich. (Vocus) August 6, 2009
Ever since its successful introduction at the Miami Yacht and Brokerage Show this past February, the new MTU Series 2000 M94 engine has been getting a lot of attention. The first of the 16V configurations, which boasts a standard-setting 2,600 bhp at 2,450 rpm, has been delivered to Viking Yacht Company for installation in a new 82-foot Sportfish that is sure to turn heads and make waves.
MTU distributor Johnson and Towers delivered a pair of the engines to Viking's New Gretna, New Jersey facility, where the vessel is being built. According to Johnson and Towers senior vice president Bob Shomo, Viking has been a longtime supporter of MTU's Series 2000 engines.
"When the Series 2000 was first introduced in 1996 for the marine market, Viking was the first major boat builder to support the engine," says Shomo. "Over 85 percent of 61-foot Vikings were equipped with MTU Series 2000s, and nearly all of the 65-foot Vikings had MTUs."
The new Series 2000 M94 builds on the success of its predecessor engine by offering increased horsepower. Overall engine operation has been optimized with decreased fuel consumption at cruise speed and asymmetric turbocharger compressor wheels creating higher boost pressure at lower engine speeds. The M94 has also been engineered to be a quiet engine, with one of the lowest sound and vibration levels.
The M94 meets international emissions standards, including EPA Tier 2 Commercial and IMO (International Maritime Organization), and comes standard with SOLAS (Safety of Life at Sea) certification. It features double-wall fuel lines, triple-wall exhaust manifolds, water-cooled turbocharger and exhaust routings that keep the engine surface temperatures well below the 220° C guideline set by SOLAS.
"We honor our commitment to build a better boat every day, and we expect our suppliers to meet the same demand. We are looking forward to installing the first pair of these new engines," says Lonni Rutt, Viking's vice president of engineering and design.
The new 82-foot Viking is expected to be ready for sea trials near the end of the year, with final delivery to the customer in early 2010.
About Viking
Located on the Bass River about 30 minutes north of Atlantic City, New Jersey, the Viking Yacht Company was founded on April 1, 1964 by brothers Bill and Bob Healey. With a product line that includes 19 models from 46 to 82 feet, Viking reigns supreme in the convertible yacht market both in domestic and international circles. Vertically integrated, virtually every component that goes into a Viking is produced in-house at the company's 810,000-square-foot manufacturing facility. While much has changed over the past 45 years, Viking's commitment from the beginning "to build a better boat everyday" with dedication and innovation is a testament to the company's success and worldwide recognition for quality, value and blue-water performance.
About MTU
MTU Detroit Diesel, Inc. is the North American regional headquarters of MTU Friedrichshafen GmbH, one of the world's most important providers of diesel engines and drive and propulsion systems for ships, heavy-duty land and rail vehicles, and distributed energy. It offers a complete line of power solutions from 30 to 12,200 bhp (20 to 9,100 kW) for applications in the marine, rail, power generation, oil and gas, agriculture, mining, construction and industrial, and defense markets. MTU Detroit Diesel is part of the MTU Engines division of Tognum AG. http://www.mtu online.com
About Johnson and Towers
The Johnson and Towers organization was started in 1926 with a small marine store on Philadelphia's Market Street by Walter F. Johnson, grandfather of the current Chairman of the Board, Walt Johnson III, and his partner Joseph A. Towers. With the motto "everything for a boat" they catered to the needs of the area's novice and professional mariners alike. Today, with over 80 years experience in the marine engine sales and service business, Johnson and Towers is the authorized MTU distributor for pleasurecraft and commercial marine engines in the New Jersey, Delaware, Maryland and Washington, DC area.
About Tognum
With its two business units, "Engines" and "Onsite Energy & Components", the Tognum Group is one of the world's leading suppliers of engines, propulsion systems and distributed energy systems. These products are based on diesel engines with up to 9,100 kilowatts (kW) power output, gas engines up to 2,150 kW, fuel cells up to 360 kW and gas turbines up to 50,000 kW.
The product portfolio of the "Engines" business unit comprises MTU engines and propulsion systems for ships, for heavy land, rail and defense vehicles, and for the oil and gas industry. The portfolio of the "Onsite Energy & Components" business unit includes distributed energy systems of the brand MTU Onsite Energy, fuel-injection systems from L'Orange, and drive shafts from Rotorion. The energy systems comprise diesel engines for emergency power generation, basic and peak load, and cogeneration power plants based on gas engines, fuel cells and gas turbines that generate both electricity and heat.
In 2008, Tognum generated revenue of more than €3.1 billion and employs more than 8,900 people. Tognum has a global distribution and service structure with 26 fully consolidated subsidiaries, more than 140 sales partners and over 500 authorized dealerships at approximately 1,200 locations. The shares of Tognum AG (ISIN: DE000A0N4P43) have been stock-exchange listed since 2007 and are included in the MDAX.
Contact:
Jennifer Riley
Public Relations Manager
MTU Detroit Diesel
(313) 592-8103
# # #