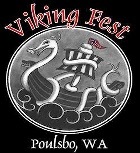 Safeway's donation is sufficient to guarantee that both festivals will take place and will be superb, Viking Fest, President, Ron Krell.
Poulsbo, WA (PRWEB) May 10, 2013
Viking Fest Corporation is pleased to announce that SAFEWAY Inc. has stepped forward as the Title Sponsor for both Viking Fest and the 3rd of July Fireworks celebration.
SAFEWAY presented a check for $25,000 to Viking Fest Corporation President, Ron Krell, and the other members of the Executive Board at a meeting of the Poulsbo City Council and Mayor Erickson on May 1st.
Krell noted that Safeway's donation is sufficient to guarantee that both festivals will take place and will be superb. Safeway's Poulsbo store is under construction and is scheduled to open in December; by sponsoring these two festivals, the firm is demonstrating their commitment to, and desire to be involved in, the Poulsbo community. Krell noted that additional donations are needed due to significantly increased costs for the 3rd of July fireworks this year and to offset the outlays for the revised electrical installation necessitated by the reconfiguration of Anderson Parkway.
Krell stated that they are adding new events to the lineup for the 45th Annual Viking Fest as well as retaining those successfully introduced in the past. There will be a Message-In-A-Bottle Race, sponsored by Wells Fargo Bank, on Sunday at 2 p.m. The race is similar in concept to the Duck Races. Instead of yellow plastic ducks, sports drink bottles will be used, each carrying a ticket stub. First prize will be $1,000; second prize $500; and third $250.
Additional merchandise prizes will also be available – for example, Pro-Guard Self Storage on Little Valley Road is donating two packages each for 3 months of free storage. Tickets will cost $5 each or $20 for 5 tickets and will be available at a number of merchants in Poulsbo including the Chamber of Commerce until the 16th of May, and at the Viking Fest Information Booth until 12 p.m. on Sunday, unless sold out.
A murder mystery, Death with Lefse, sponsored by AmericanWest Bank, will enable sleuths to purchase an entry sheet ($7) which will provide a description of the murder of Baldur, King of the "Village of Little Norway and surrounding lands," the names of those possibly involved, and a list of the downtown stores where the characters involved will be providing additional clues. The contest will begin on Sunday at 10 a.m.; sleuths may turn in their entries at the Viking Fest Information Booth that afternoon any time before 3 p.m. The crime will be reenacted at 3:30 p.m. in Kvelstad Pavilion, the murderer led off in handcuffs by the High Sheriff, and the winning entries will be drawn at random from among those who correctly identified the villain who committed the dastardly crime. First prize is $100, second $75, and third $50.
Kupcake Krigen (Cupcake War), sponsored by Marine View Beverage, will be held Sunday morning beginning at 10 a.m. and continuing until noon. This year it will be open to anyone who wishes to enter who is at least 12 years of age. They will bake three flavors of cupcakes at their home, entering 25 of each flavor (75 total) into the competition.
On Sunday morning beginning at 10 a.m., they will decorate each cupcake and assemble them into a display in Waterfront Park. The entry will be judged on the taste of the cupcakes and the attractiveness of their decoration and display. When judging is complete, the cupcakes will then be sold to the public at the Viking Fest Information Booth for a free-will donation. Entry is free. Entry information is on the Viking Fest website: http://www.vikingfest.org.
Last year Viking Fest introduced the first Viking Fest Stand-Up Paddleboard Race. It will be back this year, again featuring 5-mile and 1-mile races. They will take place in Liberty Bay west of Kvelstad Pavilion. Entry information is available on the Viking Fest website: http://www.vikingfest.org.
Viking Fest is pleased to announce that Suquamish tribal members will join with the Viking-age re-enactors in the Viking Village area of the Waterfront Park. The Suquamish will be creating native American arts and crafts, which will be for sale.
Paradise Amusements will continue to provide the carnival in King Olav Parking Lot with thrill rides and games of skill for all ages. Wrist bands will be available in May at AmericanWest Bank entitling the bearer to rides at a significant discount.
The 36th Annual Viking Fest Road Races will take place as usual on Saturday morning, beginning at 9 a.m. The races are sponsored by the City of Poulsbo's Parks and Recreation Department. Entrants can register on the Road Race's website: https://register.bazumedia.com/reg/form?eventID=3422
On Saturday afternoon at 2 p.m., the 44th Annual Viking Fest parade, sponsored by Central Market, will proceed along Fjord and Front Streets providing a delightful, home-town spectacle. Mr. Kim Nesselquist, Norway's consul for the Pacific Northwest, will be Grand Marshal of the Viking Fest Parade. Jake Velarde, the North Kitsap High School wrestler who won his fourth consecutive state title in February, will be Junior Grand Marshal.
The Poulsbo Noon Lions will host the 41st Annual Pancake Breakfast at North Kitsap High School from 7 a.m. to 1 p.m. on Saturday and 9 a.m. to 1 p.m. on Sunday. All earnings from the breakfast go into their Scholarship Fund.
A full lineup of entertainment will begin at 3 p.m. on Friday, 17 May; it will keep Kvelstad Pavilion hopping with dancing, singing, and music, all sponsored by Valley Nursery.
Food, arts & crafts, and vendor booths will fill most of the western half of the newly remodeled Anderson Parkway. Unlike prior years, the food booths will be intermixed with the non-food booths. Because the space between the two rows of booths will be less in the new parking lot configuration, it was decided to space the food booths out in an effort to keep the lines of people queuing up for food from blocking the street.
The Loft Restaurant is again sponsoring the Oyster Eating Contest on Sunday at 1 p.m., and Peninsula Credit Union is sponsoring the Lutefisk Eating Contest, which will begin at 2 p.m. New Day Fisheries in Port Townsend is supplying the lutefisk for the contest at no charge. The Poulsbo Lodge of the Sons of Norway will prepare the lutefisk consumed in the contest as they have for the many years it has been a highlight event of Viking Fest.
The Poulsbo Lodge of the Sons of Norway has a number of events during the weekend. On Saturday they will host a Scandinavian Luncheon form 11 a.m. to 3 p.m. and a Membership Drive Beer Garden from 11 a.m. to 8 p.m. (or the beer runs out, whichever occurs first!). On Sunday they are showing three Norway-related films (free to the public).
Parking and a shuttle bus ($2 roundtrip for those ages 5 and over) will run on Saturday, bringing those who wish to park at NK High School and Junior High to and from downtown.
For a complete schedule of events, please visit the Viking Fest Website: http://www.vikingfest.org.
PR and Marketing Provided by:
The RockFish Group, llc.
Contact: Kelle Kitchel - Cooper, Director of Development
Marketing | Development | PR | Sales | Consulting Group
T 360.774.0431 F 360.343.0128 E: kelle(at)rockfishgroup(dot)com