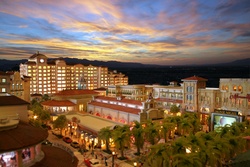 LAS VEGAS (PRWEB) October 22, 2007
Danny Abrams, owner of Manhattan's acclaimed seafood restaurant Mermaid Inn and founder of Prohibition, the popular 1920's speakeasy-style bar in NYC, is bringing both concepts to The Village at Queensridge, http://www.tvqr.com, a 29 acre mixed-use neighborhood rising at the edge of Summerlin in Las Vegas. Mikuni, which has won Sacramento's "Best Sushi Restaurant" for ten consecutive years, has also just announced plans to open Taro's By Mikuni at The Village at Queensridge.
Located in the Queensridge master-planned community just 11 miles northwest of the Las Vegas Strip, The Village will feature more than 700,000 square feet of upscale retail, restaurant, entertainment and office space, in addition to 340 distinctive condominiums.
Mikuni intends to operate the 7,200 square foot restaurant under its Taro's By Mikuni concept and offer the award-winning Mikuni sushi and innovative rolls along with other Asian-themed dishes. Abrams' Mermaid Inn will open in approximately 2,500 square feet of space, while his 3,000 square foot bar will capture the spirit of live jazz in a sexy setting, offering hand-crafted, intricate cocktails.
Another famed restaurant opening at The Village is Mastro's Steakhouse. As with Mermaid Inn and Mikuni, The Village will become the first Las Vegas location for Mastro's.
These restaurants will join other eateries and a diverse mix of interesting and much anticipated retailers and services for men, women and children, and include apparel, jewelry and home furnishing stores. For example, Kidville, which operates upscale facilities catering to newborns through five-year-old children and their families, has announced plans to open in 16,000 square feet at The Village. This will be Kidville's first location outside of New York City.
Developed by an affiliate of Executive Home Builders (EHB), a premiere builder in the valley, The Village is scheduled to be open in late 2008. An EHB affiliate is also developing One Queensridge Place, the only vertical custom home community in the northwest Las Vegas valley, located across from The Village.