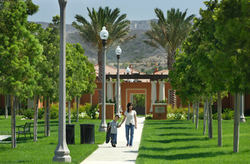 Portola Springs is an exceptional master planned community and well deserving of this award
Newport Beach, CA (PRWEB) July 29, 2008
Portola Springs, a residential village designed and developed by Irvine Community Development Company featuring new homes in Irvine, was honored for its innovative planning and design excellence as "Master Planned Community of the Year" during the prestigious 45th Annual Gold Nugget Awards ceremony at the Pacific Coast Builders Conference (PCBC). This marks the third time one of the Villages of Irvine communities received a coveted "Master Planned Community of the Year" award. In addition, Portola Springs received a Gold Nugget Award for "Best Community Site Plan."
"Portola Springs is an exceptional master planned community and well deserving of this award," said Jenny Sullivan, PCBC judge and Senior Editor for Builder Magazine.
The Gold Nugget is one of the real estate industry's highest honors and marks creative achievement and excellence in land use, planning and architectural design for residential, retail and commercial industrial developments throughout 14 western states.
"These awards demonstrate that we have succeeded in designing an attractive, innovative village that meets the needs of today's homebuyers as they seek a unique environment for their families found only in the Villages of Irvine," said Dan Young, President of Irvine Community Development Company LLC, an affiliate of The Irvine Company LLC.
The master planned community of Portola Springs features amenities that include swimming pools, sports courts and grassy picnic areas. Portola Springs residents also enjoy 100 acres of natural habitat preserved in the heart of the village.
In addition to Portola Springs' Gold Nugget award, the city of Irvine was recently recognized as the Safest Big City in America by the FBI and was rated as one of the best places to live in the U.S. by Money Magazine.
For more information about new homes in Irvine at the Village of Portola Springs or other new homes in Irvine, please visit http://www.villagesofirvine.com. Information is also available by contacting a Villages of Irvine New Home Consultant at (888) 820-0721.
About The Irvine Company
The Irvine Company is a privately held, 140-year-old real estate planning, development and investment company best known for the Villages of Irvine™, the balanced, sustainable communities it has planned and created in Orange County, Calif.
###