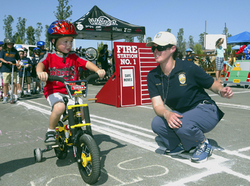 The Woodbury Bike Rodeo is just one of the many different village events held throughout the year
Irvine, CA (PRWEB) June 5, 2008
The Village of Woodbury. recently invited children of all ages to don their helmets, hop on their bikes and attend the 2nd Annual Woodbury Bike Rodeo. The event took place Friday, May 16th at the state-of-the-art Woodbury Elementary School.
Village of Woodbury
At the event, Police Department representatives taught young cyclists the rules of safety and handling, letting them practice on an obstacle course so long as they had a helmet. Professional bicycle mechanics from Rock N' Road Cyclery adjusted bicycles and helmets for proper fit.
"The Woodbury Bike Rodeo is just one of the many different village events held throughout the year," said Kevin Chudy, General Manager of the Woodbury Community Association. "As families continue to purchase new homes in Irvine at the Village of Woodbury, these and other village activities grow in popularity - and really demonstrate the incredible sense of camaraderie and spirit found throughout the community."
The Village of Woodbury is exquisitely designed for family fun and village interaction as inviting parks, squares and gardens are interspersed throughout the neighborhoods. The community's central showcase for recreation and socializing is The Commons, a 30-acre central gathering place that includes The Club, a residents-only private recreational facility, Woodbury Community Park, the Great Lawn and the Elementary School.
Rivaling sought-after resort environments, The Club is an incredible expanse that incorporates a resort pool and spa with cabanas and barbecues. In addition, this facility offers lighted sports courts, courtyards, an outdoor fireplace and two clubhouse-like buildings for community gatherings and private parties. Residents can start community activities with the help of The Club's full-time activities director.
The Community Park is 10 acres of enjoyment for all ages, highlighted by sports fields and courts, baseball diamonds, a tot lot, picnic tables and play areas. The park's community center building is staffed by Irvine city parks personnel.
To learn more about new homes in Irvine, visit http://www.villagesofIrvine.com, an incredible resource for homeshoppers that includes information on all neighborhoods currently offering homes in the Villages of Irvine. Homeshoppers can also obtain information by calling (888) 820-0721 to speak with a Villages of Irvine New Home Consultant.
About The Irvine Company
The Irvine Company is a privately held, 140-year-old real estate planning, development and investment company best known for the Villages of Irvine, the balanced, sustainable communities it has planned and created in Orange County, Calif.
###