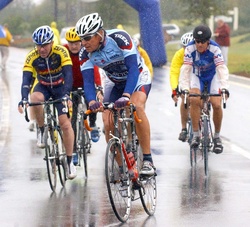 Boomers were the first generation that grew up exercising at gyms, and the first that expects, indeed demands, that they be able to exercise into their 70's and 80's. Boomers are changing the notion of traditional retirement and physical fitness
THE VILLAGES, Fla. (PRWEB) August 26, 2008
"Boomers were the first generation that grew up exercising at gyms, and the first that expects, indeed demands, that they be able to exercise into their 70's and 80's. Boomers are changing the notion of traditional retirement and physical fitness," said John M. Crossman, CCIM, president of Crossman & Company and retail spokesperson for The Villages. "Our residents are blowing away the myth about how active retirees are and it's not simply a walk around the park, it's joining teams and competing."
Baby boomers are the fastest-growing segment of the fitness population today. The increase has been the defining change in the fitness industry over the past 15 years. Gym owners, equipment developers and business professionals concerned with profitability in the fitness industry, should be doing everything they can to attract the baby boom generation.
Results are based on the responses of more than 11,000 survey participants, collected in March 2008. They reflect the demographic and geographic distribution of the development's adult population.
About The Villages/Crossman & Company
Crossman & Company handles the retail leasing for The Villages, FL including the town centers of "Lake Sumter Landing", "Spanish Springs", plus the "Buffalo Ridge" and "Antrim Dells" shopping centers. The Villages is the largest single-site mixed-use real estate development in the U.S. and currently home to major retail and restaurant tenants including: Publix, Fresh Market, Wal-Mart, McDonald's, Barnes & Noble, Belk, Bealls, Bonefish Grill, Panera Bread, Starbucks, Sweet Bay, TGI Friday's, Chico's, Ruby Tuesday's, Target, Outback, Carrabas, Bass, Izod, JoS. A. Bank and Red Lobster.
For more information please visit http://www.thevillagescommercialproperty.com, or call 352-753-6654.
MULTIMEDIA GALLERY http://www.businesswire.com/cgi-bin/mmg.cgi?eid=5763113