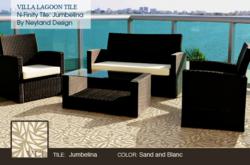 The N-Finity designs offer a wonderful alternative to traditional cement tile designs.
Gulf Shores, AL (PRWEB) July 18, 2012
Villa Lagoon Tile is excited to announce the debut of N-Finity Tiles, a new collection of handmade encaustic cement tiles from designer Stu Neyland.
Neyland's N-Finity Collection offers eight unique designs - from geometric to ethnic, all containing a unique continuous flow component, which makes each installation a unique work of art. Ingeniously designed, Neyland's tiles have the ability to rotate on themselves in any configuration you wish and always match up, and always create a different but cohesive repeat. This design pattern concept shows the wonderful versatility of cement tiles; laid in the traditional repeat or with each turn of the tile a new random pattern emerges, allowing the tile to be arranged with infinite possibilities.
Graphic design came to Neyland naturally. A graduate of Ringling School of Art and Design, Neyland spent ten years working both as an artist, and on creative teams responsible for planning some of Hallmark's largest seasonal lines. But that was just a start. "Designing graphics that produced interlocking and flowing patterns has always been something I have toyed with," says Neyland. "The idea of having infinite patterns or designs without repeats seemed like a perfect fit when I spoke with Lundy about her floor tile designs- it was a perfect place for my designs."
"When Stu called and later sent me examples of his stencil work, I knew this was a real opportunity to do something fun and beautiful," states Lundy Wilder. "Stu's stencils were incredible and his idea of N-Finity designs offered a wonderful alternative to traditional cement tile designs. We're very excited about offering them as a part of our designer collections." Wilder is the owner/designer of Villa Lagoon Tile, a firm that specializes in traditional and contemporary cement tiles designs.
Cement tiles, also known as Cuban tiles, Mexican tiles, or Moroccan tiles, are common in Europe, Latin America and the Carribean. Once popular in the 1930's in the US, the colorful tiles are experiencing a resurrgence of popularity. Villa Lagoon's tiles have been selected and used in high-end hotel lobbies, restaurants, airports and residences to provide a durable floor surface that is part of the essential interior design element.
The eight inch handcrafted cement N-Finity Tiles, are designed by Neyland Design and sold/distributed by Villa Lagoon, the N-Finity collection is customizable using any of the available sixty color palette. The tiles are 20cm x 20cm (8"x8") and weigh about three pounds each.
Samples of the N-Finity tiles are available by contacting Villa Lagoon Tile online or emailing: info(at)villalagoontile(dot)com or calling the office at 251-968-3375.
About Villa Lagoon Tile
Villa Lagoon Tile, Inc is an import floor covering design company that specializes in handmade custom-designed cement tiles. Located in Gulf Shores, Alabama, VLT provides custom tiles to clients in Europe; Australia; Canada; as well as the US. For more information and photos visit our website at http://www.VillaLagoonTile.com
About Neyland Design
N-finity Designs are just one segment of an ever expanding textile collection by Neyland Design. Specializing in design components for textile, carpet, tile and fashion along with contemporary and unique furniture designs, Neyland Design is a partnership with Stu Neyland and Renee Brobst. Offices are located on Knight Island, FL and Kansas City, MO. For more information visit http://www.n-finitydesigns.com