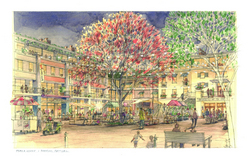 Master Planned Community of the Year
Wilsonville, OR (Vocus) February 20, 2009
A new nonprofit, the Villebois Sunday Market, will hold its first volunteer and organizational meeting Thurs., March 19 from 5:45 to 7 p.m. Hosted at the Miraval Building in the Villebois Village Center located at 28929 S. W. Ravenna Loop in Wilsonville, Ore., the meeting will allow potential vendors and community members the opportunity to meet and learn more about plans for the Villebois Sunday Market slated to open May 2.
After nearly 18 months of planning, the Villebois Sunday Market was formed as a community nonprofit on February 11. The Sunday Market, which will operate from 10 a.m. to 2 p.m., offers a variety of local entertainment, fresh seasonal produce, baked goods and other Oregon farm-produced goods - from cheese to honey to wine. Additionally, local artisans, florists and nursery vendors will have booths at the weekly event. The market will be held in the Village Center at the heart of the distinctive Villebois community.
Locally owned Costa Pacific Communities, noted for its transit-friendly, award-winning communities, is underwriting the costs to found the Villebois Sunday Market. The company received national attention for the planning and development of Orenco Station in Hillsboro, a 190-acre mixed-use community located along the Westside MAX light rail line. In 1999, Orenco Station was named "Master Planned Community of the Year" by the National Association of Home Builders. The Orenco Station Farmers Market started that same year. The Orenco Station Sunday Market now has more than 75 vendors and operates year-round.
For vendor or volunteer information, please contact Andy Green, the Villebois Village Center sales and marketing manager at Costa Pacific, at 503.855.4661 or info @ CostaPacific.com; or post a message at Blog.CostaPacific.com under Farmers Market.
About Costa Pacific Communities
Since 1990, Costa Pacific Communities has been building communities throughout the Pacific Northwest that enrich the lives of residents. Costa Pacific has been recognized nationally for excellence in design, master planning and marketing and is the most awarded builder/developer in the history of Oregon. Most notably, Costa Pacific received a Gold Nugget Award for Best on the Boards Site Plan for Villebois at the Pacific Coast Builders Conference in 2005. The master planner's Orenco Station community in Hillsboro, Ore. received the prestigious "Master Planned Community of the Year" award in 1999 from the National Association of Home Builders. Additionally, Costa Pacific has been named Developer of the Year by Oregon's environmental watchdog group, 1000 Friends of Oregon, and twice been named the Home Builder Association of Metropolitan Portland's (HBA) Builder of the Year as well as the State's Builder of the Year. For more information about Costa Pacific Communities, please visit http://www.CostaPacific.com.
###