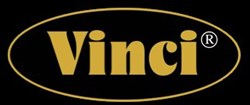 It is a thrill to have our gloves carried with industry-leading retailer like Hibbett.
Richmond, VA (PRWEB) February 19, 2014
Vinci, makers of high quality baseball gloves and equipment, announces the launch of Vinci equipment distribution in Hibbett Sporting Goods stores.
Hibbett will carry select models of Vinci baseball gloves, including the popular JC3300-L Black and White, which will retail for $199. The JC3333-22 Black with Grey Mesh will retail for $149.
Commenting on the situation, Pete Vinci, owner of Vinci, said, "We are excited to work together with Hibbett Sporting Goods on this venture. We appreciate the time they have spent working with us to ensure a successful launch. "
Vinci manufactures a full line of professional grade baseball and softball gloves. The gloves are the highest in quality, durability, style and performance. All Vinci gloves are made from US steer hide and kip leathers. The gloves offer additional features such as heavy-duty loops and supports for both the thumb and pinky finger. Supports in each finger stall help the wool finger padding retain its shape.
Hibbett Sports stocks a large selection of athletic footwear, athletic apparel and team athletic equipment. Vinci gloves will be carried in over twenty-five stores.
"It is a thrill to have our gloves carried with industry-leading retailer like Hibbett," adds Vinci. "The current offerings represent the best of our line. We hope to add additional items and product types in the near future."
About Vinci
Vinci is a family-owned and operated sports equipment company dedicated to quality. Hundreds of professional players wear Vinci, including minor and major league baseball players. For additional information, visit http://www.vincipro.com.
About Hibbett Sporting Goods, Inc.
In business since 1945, Hibbett Sporting Goods, Inc. operates over 900 sporting goods stores in small to mid-sized markets, predominantly in the Sunbelt, Mid-Atlantic and the Lower Midwest. The company's primary store format is a 5,000 square-foot store located in dominant strip centers and enclosed malls. Each store typically lies within 150 miles of another store location. Visit them at hibbett.com.