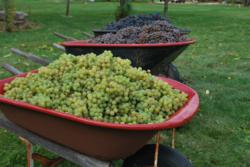 Candia, NH (PRWEB) February 28, 2013
On February 13, the winners were announced for the 2013 International Eastern Wine Competition held in Sonoma County, CA. Candia Vineyards, a boutique vineyard in New Hampshire, is proud to announce that they took home a silver medal for their 2011 Diamond wine. The competition is among wineries from all over the eastern United States.
Candia Vineyards' Diamond wine received the highest medal awarded for this event, and it was the only wine awarded from a New Hampshire winery. Candia Vineyards is consistently awarded as one of the world's best Diamond wine varietal makers. The wine is known for having striking notes of fruit and aromas that are carried through from the grape.
Near the Manchester area in southern New Hampshire, Candia Vineyards has some of the oldest Diamond vines in the state, and a remarkable history of making spectacular wines from this long-forgotten variety of grape. They are not only known for Diamond wine, but recognized all over the US for their award-winning wines.
About the company:
Candia Vineyards is a boutique in NH that specializes in fine table wines from grapes. Their products, processes and labels are meant to convey their dedication to hard work, quality, history and romance. With traditionally correct food pairings, their wines transform a good meal into a memorable one. Social occasions are enhanced by the inclusion of a favorite Candia Vineyards wine. Their selections have been hand-picked to thrive in the robust New Hampshire climate. This matching of grapes to the local growing conditions, combined with their carefully developed processes for hand-crafting wines, has brought Candia Vineyards dozens of medals in international competitions. For more information visit their website at http://www.CandiaVineyards.com.