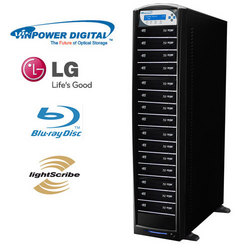 LG's BH08LS20 provides a fast BD-R write speed of 8x and compatibility with Blu-ray discs, DVDs and CDs, complementing Vinpower Digital's controller
Los Angeles (PRWEB) April 6, 2009
Vinpower Digital announces the availability of its latest Blu-ray Disc duplicator lines offering true 8X BD-R duplication speed combined with standalone LightScribe printing capability. The BH08LS 8X Blu-ray Disc writer drives, from LG Electronics, combined with the exceptional performance of the Vinpower Digital controller, provide reliable high quality copies of Blu-ray master discs as well as convenient laser label printing using LightScribe technology.
"Vinpower Digital promotes both the expansion and adoption of LightScribe printing technology and Blu-ray Disc duplication as the most viable applications for growth within the duplication industry. The fact that the LG BH08LS Blu-ray Disc drive offers both options in a single drive directly correlates with our current business model and future growth," declares Calvin Chang, C.E.O Vinpower Digital.
"LG's BH08LS20 provides a fast BD-R write speed of 8x and compatibility with Blu-ray discs, DVDs and CDs, complementing Vinpower Digital's controller," said Ron Snaidauf, vice president of Commercial Products, LG Electronics USA. "Companies like Vinpower Digital enable LG's top-of-the-line writer technology to be used even more effectively to duplicate and create multiple Blu-ray discs at once."
Vinpower Digital's line of standalone Blu-ray Disc duplication towers with LightScribe printing capability are available in multiple drive configurations, from one up to an astounding 15 Blu-ray Disc writer drives in a single duplicator. Vinpower Digital developed the new line of 8X Blu-ray capable duplicators to enable users to make exact digital copies of their original Blu-ray, DVD, and/or CD masters. The inclusion of the LightScribe printing technology allows the user to label LightScribe capable media with high quality laser printed images and/or text directly onto the label side of the disc. This allows the duplicator to function as two devices in one, a duplicator and a printer without the expensive replacement ink or ribbon costs. The Blu-ray SharkCopier manual tower line also includes a USB interface. This allows the user to create their original master content for duplication or LightScribe printing directly from their PC via USB for greater convenience and faster production.
"Vinpower Digital has applied their engineering expertise to create a truly 'all-in-one' duplication workhorse for both sides of the optical disc," said Kent Henscheid, LightScribe Marketing Manager. "Businesses need systems that offer more and more value in one configuration, and Vinpower Digital has delivered."
In addition, Vinpower Digital has teamed with the Optical Quantum line of Blu-ray Disc recordable media to ensure the highest quality Blu-ray Disc duplication. Optical Quantum offers an assortment of recordable Blu-ray Disc media which has proven to be extremely reliable in high speed duplication as well as in playback compatibility, especially when burned in the Vinpower Digital line of duplicators.
About Vinpower Digital
Vinpower Digital is the leading manufacturer of standalone optical disc duplication equipment. With our corporate office in Los Angeles, California, USA and production offices in Taipei, Taiwan, we have the ability to deliver the most advanced and reliable standalone optical disc duplication controllers, manual towers, and robotic autoloaders anywhere in the world. As a true manufacture, Vinpower Digital has the ability to OEM/ODM customized applications and equipment for qualified vendors on a number of levels. Never satisfied with good enough, Vinpower Digital constantly pushes the envelope to develop new features and enhance their existing product to stay in tune with the customers' needs and expectations.
For further information on any or all of Vinpower Digital's line of duplicators please visit our website at http://www.vinpowerdigital.com.
###