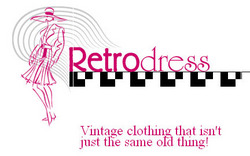 Our belief is that wearing vintage clothing offers an affordable and eco-conscious way for women to dress with style and panache
Lakeside, CA (PRWEB) February 5, 2009
Just in time for the 2009 Spring/Resort season, RetroDress.com has a new selection of Esther Williams swimwear prints available on their website. The vintage inspired designer swimwear comes in a variety of prints and styles, and is complete with shoes and accessories, which are also available on the RetroDress.com website.
The Esther Williams line of vintage inspired designer swimwear is a formidable alternative to more expensive lines featuring retro looks. A Norma Kamali suit, for example, can cost $350.00, which is much more than many women want to spend. The Esther Williams line is not only highly stylish and flattering on almost every body, but also affordable with the majority of suits costing around $60.
For those that want the real thing, Retrodress.com has real vintage swimwear as well as vintage style dresses, swing dresses, vintage cardigans, and more.
"Our belief is that wearing vintage clothing offers an affordable and eco-conscious way for women to dress with style and panache," says Laureen Redden, owner of RetroDress.com. "The Esther Williams line of vintage inspired designer swimwear features retro looks that will be in style for years and years to come."
Other vintage pieces available at RetroDress.com include 1960s Christian Dior suits, 1970s Oscar de la Renta wrap dresses, Gucci skirts, tops, and Pierre Cardin Coats. For those that really love vintage style dresses, suits, and separates, all of these pieces are a steal at any price. At RetroDress.com, however, Redden tries to keep the pieces as affordable as possible.
"We have always been about offering the best quality vintage and designer pieces at an affordable price," says Redden. "Our byline is 'vintage clothing that isn't just the same old thing', and we mean it."
Redden believes that when dealing with vintage clothing, certain pieces strike a chord with certain people, almost as if they have a story to be told, or a unique personality. Redden tries to capture that essence and character in the descriptions of the pieces she offers, and she encourages visitors to the site to sit back and stick around for a while.
For more information, visit RetroDress.com.
About RetroDress.com:
After 22 years as an assistant to a CEO, Laureen Redden took her passion for collecting vintage clothing to the internet. After converting her two-car garage to a warehouse full of vintage clothing, Redden launched Retrodress.com in 2001. Today, Retrodress.com offers a variety of vintage style dresses, swimwear, vintage cardigans, suits, separates, and accessories. For more information, visit Retrodress.com.
###