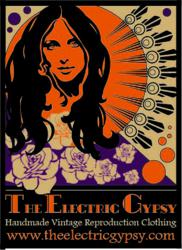 Our vintage inspired reproduction dresses fit a wider range of women better than original items. They are more comfortable and more forgiving to today's female proportions.
Exeter, Devon (PRWEB UK) 14 March 2012
To date, the online-only store has focused on individual orders, with very limited advertising in Vogue's annual Vintage Vogue edition. Emma Marsh, designer and business owner said: "We're a small business. But we want to reach more women who love vintage reproduction dresses which are handmade in Britain and inspired by original dress designs. We think it's time to share our beautiful vintage inspired dresses through boutiques and vintage stores worldwide."
Over the past two years Electric Gypsy has been building a collection of genuine 1920s, 1930s, 1940s and 1950s dress patterns from which she adapts the dress patterns to fit modern proportions. "Women used to wear underwear such as 'waspies' that nipped in the waist. We've adapted the dress designs so that corsetry is no longer necessary!" Because proportions have changed, the vintage dress patterns need to change too. Each dress in Electric Gypsy's collection has gone through a painstaking process adapting the pattern to the modern female figure to ensure comfort – whilst remaining faithful to the spirit of the original pattern. "Our vintage inspired reproductions fit a wider range of women better than original items. They are more comfortable and more forgiving to today's female proportions."
Designer Emma Marsh believes that the surge in interest for vintage dress styles has spiked because of television series such as Mad Men and Boardwalk Empire. But there is also a ferociously loyal crowd of vintage fans who have always wanted to look the part and have quietly spread the word through social media. Electric Gypsy has a thriving Facebook community of over 400 members where new dress designs and newly acquired fabrics are regularly posted for feedback. This is, perhaps, the hub of Electric Gypsy's approach: "We're listening all the time. By getting feedback from over 400 Facebook members on fabric swatches and dress designs we've posted, we focus on making dresses that people really want to wear."
The vintage inspired dresses are available in sizes 8, 10, 12, 14, 16 and 18. The handmade dresses are typically priced in the online store at between £42 and £72 "My business adviser keeps telling me to put up prices because the dresses are hand made in Devon. But I want to keep the dress range affordable for everybody to enjoy."
Until now, the Electric Gypsy has mainly sold the vintage dresses online at http://www.theelectricgypsy.com. Customers choose the dress style and then the fabric. "Because we're a small business, we can allow customers to choose from a variety of fabrics before we make the dresses. Some bolts of fabric are special vintage finds – so the final dress ends up being something really quite special. You're very unlikely to meet anyone else in the same dress – even if you visit a 3 day festival like Vintage At Goodwood. And if you do, it'll be a conversation starter! I like that about our business – it means we can make something special and unique for our customers."
The number of dresses available wholesale to boutiques will be in strictly limited quantities and on a first come, first served basis: "I don't ever want to sacrifice quality simply to meet demand – I'll run a waiting list before I compromise on quality." Electric Gypsy's wholesale minimum order is £150, with a minimum requirement of 2 dresses in the same style and fabric – in any size. The company also accepts international orders and ships worldwide.
About Electric Gypsy
The Electric Gypsy is an online vintage store selling handmade vintage reproduction dresses adapted from original patterns and designs – all handmade in Devon, England. Dress prices start from £30 with free UK delivery.
Emma Marsh of Electric Gypsy welcomes interviews and questions from both press and vintage bloggers worldwide.
For interview requests, please email info(at)theelectricgypsy(dot)com or call +44 (0)1392 270 142.