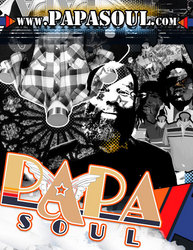 Dallas, Texas (PRWEB) February 11, 2009
Papasoul.com focuses on retail sales of gently used men's vintage clothing and brand name apparel. Each piece is completely authentic and priced below the retail competitors. Papa Soul has Ralph Lauren polos, Eddie Bauer t-shirts, and American Eagle button-ups at half the price of other clothing retailers. The site is not all brands; it also offers many different indie, mod, and retro fashions.
Papa Soul understands that with downward economic trends, that each customers want the same name brands without the retail price tag. Each brand offers costs savings that other retailers can't compete with. The reality is the website offers name-brand clothing without the burden of the retail stores' full prices, average selection, and crowed stores.
Each month, Papa Soul's team adds hundreds of shirts to the website creating a one-of-a-kind throwback experience, which other retailers and t-shirt shops may imitate, but can never duplicate. The clothing is all original and the collection is constantly changing. All clothing is priced to sell. 90% of the inventory is under $19.99, with clothing starting as low as $8.99. The one-of-a-kind look gives customers the opportunity to express themselves on their own time line, not with the changing of the seasonal fashions.
Not only are the cloths priced to sell, the vintage selection ages like a fine wine--it only gets better with time. Each piece of vintage clothing has withstood the test of time, creating a completely unique product line. The vintage line can't be imitated or undercut by the big box retailers, which creates an original shopping experience for men of all ages.
To reinforce the low-cost prices, Papa Soul is offering a 10% discount off of anything listed in the store. Enter the coupon code: PAPA1983 and save. Know that once you experience Papa Soul's original fashions, low prices, and customer satisfaction guaranty, it will be hard to return to the high cost of retail, cluttered stores, and mass apparel. Customer satisfaction is the number one goal. If the purchase is not satisfactory, send it back and your order will be refunded.
To add even more value, Papa Soul is offering a special offer on shipping--ship up to four shirts for only $5.95. Papa Soul wants to give the consumer the option of purchasing multiple items without the burden of additional shipping costs.
With the average homeowner saving now more than ever before, Papa Soul makes it possible to live life in style, while saving for a better future tomorrow. Don't stop looking great, just adapt to the times. People are taking off society's uniform and joining the men's vintage clothing revolution by bringing home one of Papa Soul's many different indie mod and retro fashions today.
###