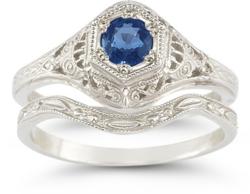 (PRWEB) February 25, 2012
Apples of Gold jewelry retailer announces the release of its brand new Vintage Rings collection. This distinct style channels graceful, fine details into a premium selection of rings. The Vintage Rings collection also includes wedding rings, perfect for the sophisticated bride.
Vintage has made a name for itself as a style that evokes bygone eras of lace, romance, and of course, high style. Designs grounded in vintage style instant create a timeless look, just by placing the right details in right places. Apples of Gold hits the mark with its Vintage Rings collection. Exquisitely crafted filigree on the rings make for an effortlessly classic style.
Intricate carving is a sure sign of vintage beauty, and it's found in the Paisley Carved Wedding Band. Solid 14K white gold sets a steady foundation for this work of art. The 9mm wide band makes room for the gorgeous paisley design that dominates the center of the band. This design isn't just carved into the ring, it's actually crafted of gold to create the openness in the ring, a unique take on the vintage style. Customers looking for a slightly different take can order the ring in 14K yellow gold or rose gold, or 18K white gold or platinum.
Another Apples of Gold ring that makes a statement of style and romance is their Vintage Wedding Bands collection. Bygone eras are back with this naturally inspiring ring. The floral pattern consists of 8-petaled flowers that encircle the band and are surrounded by careful etching. Vintage styles often use flowers to convey delicacy, and this ring is no exception. Forged from white gold, yellow gold, rose gold or platinum, this ring can be individualized to suit your fancy.
True vintage style combines elements of intricate detail with nature to make an overall amazing piece. The Paisley Floral Wedding Band accomplishes that with ease. The 3mm band packs a powerful punch of style. A four-petaled flower anchors the design and blends into various curved, paisley designs. Every surface of this exquisite ring features that fine detailing so intuitive to vintage design. Available in yellow gold, white gold or rose gold, its beauty is sure to hit the mark.
It's easy to see why Apples of Gold added the Vintage Rings collection to its already extensive online selection of jewelry. Vintage is in and it's only becoming more popular with its graceful designs and evocative elegance. Make a piece from the Apples of Gold Vintage Rings collection part of your personal collection and take comfort in knowing this style is here to stay.
###