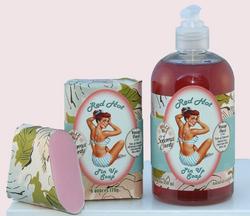 Your soap is my manager's new favorite product. We love it!
Sonoma County, CA (PRWEB) January 31, 2009
Dolce Mia announces today their retail agreement with STUDIO at Fred Segal in Santa Monica, CA for the sale of their new line of natural, made-in-California soaps. Dolce Mia's soaps feature natural ingredients, original fragrances and unique, vintage-inspired packaging. Under the terms of their retail agreement, Dolce Mia's soaps were on the shelves as of mid-December, in time for the holiday sales rush.
The addition of Dolce Mia's line amidst the holiday chaos speaks volumes for the sales potential of this stylish soap line. The STUDIO at Fred Segal buyer made the last-minute December order because he wanted to have the soaps on hand before Christmas. He said, "Your soap is my manager's new favorite product. We love it!" He also thanked the Dolce Mia sales representative for having brought the product to his attention--a rare complement that is a testament both to the uniqueness of Dolce Mia's line and the quality of the designs.
Available in both bar and pump, Dolce Mia's soaps features vintage imagery, giclee-printed onto a canvas band in one of 14 vintage styles, in 3 thematic categories-- Vintage Western, Vintage Pin-up and Vintage Hawaiian. The bar soap is a moisturizing all-natural glycerin soap. The liquid soap is castile soap, made from plant-derived oils including olive-oil. All soaps are completely biodegradable.
The line also features eight custom fragrances by Dolce Mia's founder and designer Jenny Mountjoy. Pikake, Vintage Floral Tuberose, Tropical Citrus and Mango Tangerine are among the original fragrances.
About Dolce Mia Designs:
Founded in 1995 by the designer Jenny Mountjoy, Dolce Mia produces vintage-themed stationery, gifts and natural soaps for world markets. Dolce Mia is headquartered in Sonoma County, California, north of San Francisco, in an area known for its farms and pastoral landscapes, small food producers & fine wines.
For more information please call 707-823-4032 or contact Alex Mountjoy at a.mountjoy (at) dolcemia (dot) com
About Jenny Mountjoy:
Born in Chicago, Jenny Mountjoy was raised in Santa Barbara in the 1970's. She attended UC Santa Cruz, graduating with a degree in Psychology. Jenny went on to live in England, where she worked at a fashion magazine. After returning to the U.S., and following a period of employment in the education department of the Boston Museum of Science, Jenny received her Masters in Arts Education from Stanford in 1992. Jenny worked briefly at a school in San Francisco before starting Dolce Mia in the basement of her San Francisco apartment.
About STUDIO at Fred Segal
For 40 years, Fred Segal has influenced the fashion and beauty industries by launching young designers and new products from around the world, continually setting the trends of tomorrow. It is the fashion and beauty destination of Los Angeles...a place where creativity is always alive and individuality always encouraged. As the premier beauty retailer at Fred Segal, STUDIO's painstakingly resourced collections of unique personal and home fragrance, state-of-the-art skincare and treatment, hair care, and the finest makeup brands have long made it a destination for those who look for innovation, style and quality.
# # #