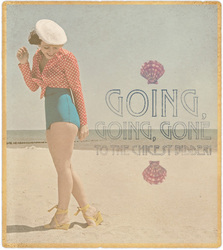 We loved the idea of partnering with Market Publique, another business that loves vintage as much as we do
Pittsburgh, Pennsylvania (Vocus) June 15, 2010
Just in time for the summer, online retailers, ModCloth and Market Publique, have collaborated to bring together a one-of-a-kind vintage collection of beach-ready women's apparel ranging from a nautical romper to a retro one-piece swimsuit. All proceeds over the minimum bid for the items will go to Fashion Delivers, a nonprofit that donates clothing to victims of natural disasters.
"We loved the idea of partnering with Market Publique, another business that loves vintage as much as we do," says Susan Gregg Koger, founder and chief creative director of ModCloth. "And the fact that we're able to put our love of vintage towards a good cause is really fulfilling."
Twenty-two unique pieces will go up for sale on the Market Publique website on June 14, 2010, and shoppers will have the opportunity to bid on items for 10 days. A stylebook will accompany the collection, featuring the adorable fashion blogger, Melanie (Mel) Sonier of Idée Geniale, modeling select pieces. A vintage lover herself, Mel truly embodied the essence of the collection. You can explore the stylebook here and peruse the entire collection here.
And for those who miss out on the one-of-a-kind pieces, ModCloth has plenty of beachy garb to go around, which can be found here.
About ModCloth.com:
ModCloth.com is an e-retailer that sells independent designer women's fashion and decor. They've attracted a large, devoted following through their unique selection of indie clothing and engaging promotions on the ModLife Blog and social networks. The company is founded by husband and wife team Eric Koger and Susan Gregg Koger.
###