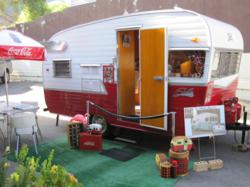 When we drive around with the 1962 Shasta, people smile and give us the 'thumbs up' signal all the time. Everyone wants to know what year it is and what it looks like inside.
Glenwood Springs, CO (PRWEB) February 14, 2012
A true classic car buff, Richard Nash never imagined that he would be restoring 1960s era travel trailers. His wife, Vicky brought home the first vintage trailer in 2005 and so the obsession began. Four trailers have made their way to the Nash driveway. The fully rebuilt 1962 Shasta Airflyte is the gem of the collection.
If not purchased for $100 by the Nashes, the 13 foot 1962 Shasta's fate was sure to be the local dump. A flat tire, broken jack, dilapidated interior, split seams, leaking roof, damaged siding were just a few of the problems to deal with. But being the visionaries that they are, this Colorado couple could see the true potential. A custom home-builder by trade, Richard knows construction. So the demolition began and every inch was stripped down to the frame. The original parts were used as a template to painstakingly rebuild nearly every piece from the ground up. Much of the trim, hardware, and glass was salvaged and reused. A beautiful ash wood, coated with about 5 gallons of amber shellac was used for the interior walls, ceiling and cabinetry. Shiny new aluminum cut to the exact dimensions adorn the roof and side panels. The coveted original silver wings proudly fly on the back.
Vicky served as Creative Director, selecting the red, silver, white and black color scheme. A trip to the paint shop highlighted the famous Z pattern on the exterior. A diner theme carries through the interior space. Cool retro-looking fabric was selected for the cushions and coordinating curtains. Formica countertops and tables feature a boomerang pattern which complements the black-and-white checkerboard floor.
Nine months (and $10,000 in materials) later, the completed 1962 made its debut. Reminiscent of a peppermint stick, she was named Candy. Candy has made many appearances at a variety of classic car shows and vintage travel trailer rallies in Colorado, Utah, and New Mexico. Sometimes she is accompanied by collector cars like a 1968 Ford Mustang. A true show-stopper, Candy won the Ladies' Choice Award and also the People's Choice Award in respective years at the Grand River Classic Car Show in Glenwood Springs, Colorado. She was also pictured on the front page of the Moab Times Independent newspaper.
To complete the ensemble, Richard located a 1961 Ford Galaxy Sunliner convertible which he envisioned pulling the vintage camper. This full restoration included an engine and transmission overhaul, brakes, shocks, black-and-white upholstery, fresh chrome, a new soft top, a matching paint job in Ford Candy Apple Red, and a new hitch with electronic brake control.
"When we drive around with the 1962 Shasta, people smile and give us the 'thumbs up' signal all the time. Everyone wants to know what year it is and what it looks like inside," says Richard.
This hobby began when Vicky read a magazine article about Sisters On The Fly, a group of women who travel around the country together in antique trailers painted with colorful murals. "I thought that looked like so much fun. And I didn't even camp!" exclaims Vicky. So she started searching for a trailer and found a 1970 Shasta hunting trailer with camouflage curtains for sale in Denver. Fortunately, Richard was a good sport and agreed to help fix it up. Even though there was some hail damage to the top and back, the trailer was in decent shape. It underwent a cosmetic transformation. When it went on the road, it was a big hit. So the Nashes were hooked. However, their preference was the more rounded "canned ham" style trailers so they sold the 1970 box version and began the hunt for an earlier model.
Since the completion of the 1962, a 1961 Shasta has joined the fleet. Richard was about to embark on a new home construction project so needed an onsite office. As luck would have it, he came upon a 16 foot Shasta (sans wings) for sale. So with a fresh coat of black and white paint, the trailer was retrofitted with a computer desk and drafting table complete with filing cabinets, refrigerator and microwave.
It is true that once people are enamored with vintage trailers, they can never own just one. Somehow a 1968 Serro Scotty has also made its way to the Nash residence. They are thinking of turning that into a gardening shed for the backyard. Or perhaps it could be a custom order to sell to another trailer junkie.
Richard and Vicky Nash are contemplating turning this hobby into a business called Retro Trailer Design. See pictorial slide shows of all their projects at http://www.retrotrailerdesign.com.
About Retro Trailer Design:
Retro Trailer Design recreates vintage travel trailers reminiscent of the canned hams of the 1950s and 1960s. Richard and Vicky Nash in Glenwood Springs, Colorado specialize in customized travel trailer restoration. http://www.retrotrailerdesign.com
Media Contact:
Vicky Nash, Public Relations Representative
Resort Trends, Inc.
970-948-4923
vicky(at)resorttrends(dot)com
###