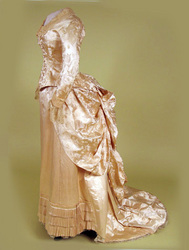 We are thrilled about our partnership with Whitaker~Augusta
Reston, VA (PRWEB) May 21, 2008
WorthPoint Corporation, the premier website for art, antiques, and collectibles, announced today that Whitaker~Augusta Auction Company has selected WorthPoint as a data publishing partner. Under the new agreement, Whitaker~Augusta Auction Company will provide WorthPoint with upcoming and historical auction data to be published on the WorthPoint web site. With information provided by Whitaker~Augusta, WorthPoint is now able to provide more comprehensive data than ever.
"We are thrilled about our partnership with Whitaker~Augusta," said Will Seippel, CEO and Chairman of WorthPoint. "With this new relationship, we add the sales of couture and vintage clothing, textiles, and fashion accessories to our database, from the experts on vintage fashion. No one is more knowledgeable on the subject of antique clothing, textiles and lace than they are, and WorthPoint is proud to include Whitaker~Augusta's records in its data collection."
WorthPoint is a collector's social network and search engine rolled into one. The website is changing the process of assessing worth for collectibles by providing a vast database of sales records wherein an individual can assess the worth of their own collection. Through WorthPoint, collectors connect with experts to learn more about authenticity and value in art, antiques, and vintage items. Through the WorthPoint online community, members can contact other collectors interested in buying, selling, or swapping stories, and they can share their insight and knowledge through the forums and wikis.
http://www.worthpoint.com
Whitaker~Augusta Auction Company, based in Hope, PA, is America's only auction house specializing exclusively in the sale of couture & vintage clothing, lace, linens, accessories, textiles and fashion-related ephemera and objects. Whitaker~Augusta represents museums, historical societies, universities, individuals and estates. Respect for unique textile treasures and the benefit of a targeted marketing program, with clients world-wide, enable Whitaker~Augusta to consistently achieve value for its consignors. With over 35 years of experience in vintage and antique fashion, Whitaker~Augusta is the largest specialty fashion auction house in the world.
For more information, visit http://www.whitakerauction.com/.
###