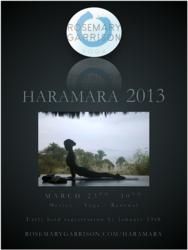 I just keep coming back to this retreat no matter what my schedule says... in fact, "Haramara with Rosemary" *is* what my schedule says!
Los Angeles, CA (PRWEB) January 10, 2013
Rosemary Garrison's Yoga Retreat in Mexico 2013 is returning for the fourth straight year to Haramara on the beautiful coast of Sayulita!
Rosemary's yoga retreats are considered some of the most replenishing and healing weeks of the year by her yoga students. The retreat will be an opportunity to study and practice with a much-loved San Francisco-based yoga teacher, as well as to connect with other yoga students from different practices and backgrounds. This is a yoga retreat for beginners through advanced, and the twice-daily yoga practice is tailored to the individual as well as the group. Each year brings new beginners to the practice, as well as seasoned yogis - which makes for a wonderfully diverse group to learn from and grow with.
Men and women with Vinyasa Flow, Ashtanga, Iyengar, and various yoga traditions come from the U.S. and abroad to practice at this 7 day retreat... leaving behind the cold Winter months for the Spring Sayulita beach. Some students make this their "couples" yoga retreat, some fly solo, and others come as a family or with friends.
The 2013 retreat will be for seven days and seven nights, at the spiritual sanctuary of Haramara... a treasured retreat location nestled within one of the most breathtaking coastlines along the Pacific. Known by many yoga students and visitors as "a sanctuary for the soul," Haramara provides the perfect backdrop for healing, nurturing and encouragement of the yogic spirit.
Each day in Mexico will include a morning and an evening Vinyasa Flow yoga class followed by teachings around the purpose, philosophy, and power of the practice both historically, and within the context of modern lifestyles. The yoga classes will also be preparation for daily meditation both for those students with a meditation practice, as well as for those yogis who are interested in beginning meditation. Instruction will be available for all interested.
Click here to register online for this retreat!
Rosemary's yoga journey began with the Mysore Ashtanga first series taught by renowned Ashtanga yoga teacher Tim Miller, with whom she has studied extensively. Years later, further exploration into yogic movement and practice guided her to Vinyasa Flow yoga classes where she found the dance of Vinyasa liberating, beautiful, and alive. She then began practicing with an array of talented teachers within the yoga flow lineage - Max Strom, Dharma Mittra, and Shiva Rea. After a Yoga Alliance Certification, a teacher training with David Swenson, and a myriad of other trainings, she began teaching yoga in 2004 and has taught yoga full-time ever since.
In addition to leading retreats and teaching her weekly yoga classes, Rosemary teaches private yoga classes in Los Angeles, San Francisco, and the Ojai / Santa Barbara areas. She also teaches corporate yoga for businesses and for wellness programs during meetings and conferences.