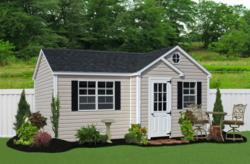 You can find a cheaper building, but you will not find a better building
Cleveland, NC (PRWEB) May 02, 2012
Liberty Storage Solutions is a company who prides itself in being conscientious in all areas of the business of producing, selling and delivering quality vinyl lawn and garden sheds. A family owned and operated business based on hard work and moral ethics, they are dedicated to building a reputation they believe will keep people coming back for more throughout the years. "You can find a cheaper building, but you will not find a better building," says Bobby Eaton, owner of Liberty Storage Solutions.
This Spring Liberty Storage Solutions is introducing two new vinyl storage shed lines, the Clubhouse and The Villa. The Clubhouse is a vinyl prefab building that is more like a small home than a simple backyard tool shed. This prefab utility storage shed is designed with a four foot front porch with vinyl post and railing system making it usable as a cottage on a remote property or as an office building as well as many things in between. It features four windows for ample lighting and has a loft area above the porch. Double doors in the rear accommodate large items being brought in or taken out.
The second new design of prefab backyard buildings is The Villa. This design seems to capitalize on class and elegance and also looks more like a small home than an ordinary outdoor utility shed. It features a multiple-gable front side with an octagonal window near the peak, and a single entry door with "nine-light" glass. This entry door, along with a double and a single window in front gives lots of natural light for great lighting in this beautiful backyard utility building. Also features double doors which can be placed either on the back side or on the gable end. The Villa is an outdoor storage building with an wide array of uses, from straightforward storage, to usage as a playhouse, or as a study or conference room.
Liberty Storage Sheds is located in the Triad of North Carolina. Salisbury is home to one of three sales lots. Cleveland, NC is where these quality prefab storage sheds are manufactured, along with one car prefab garages, swing sets, gazebos and pergolas. This Spring they have opened a new lot in Statesville, North Carolina and are excited to be expanding in this way in hopes of reaching a larger portion of the state of North Carolina.
In the season of economic challenges we are in, Liberty Storage Solutions is able to accommodate a greater number of clients through the avenue of their rent-to-own storage barns. While many people may not have the resources to buy a quality backyard storage unit outright, this rent-to-own option gives almost anyone the ability to acquire one with the equivalent of two months rent. The program is a true rent-to-own policy, doesn't require a credit check and may be terminated at any time. The length of this policy is 36 months at the end of which the renter becomes owner of the building.
Liberty Storage Solution is continuing the tradition of a company built on quality products and superior customer experience. The new buildings are just an extension of their years of outdoor storage building experience.