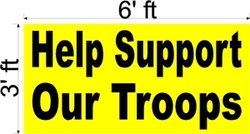 Rowland Heights, CA (PRWEB) December 24, 2009
Online vinyl banner manufacturer BannerETC.com is offering a huge price reduction on six of its pre-printed and custom vinyl banners this holiday season. To spread more cheers for businesses, BannerETC.com is discounting as much as $27.00 on its uniquely-designed vinyl banners. Discounted pre-printed vinyl banners are available in 3'x10' while BannerETC.com has a wider range of sizes available for custom vinyl banners - 2'x4', 3'x6', and 3'x8'.
Vinyl banners are effective marketing tools to convey messages, such as business location, operating hours, and most importantly, promotional messages. With the holidays coming up, many businesses are advertising discounts and specials with vibrant and attractive vinyl banners. Not only does this increase foot traffic but colorful vinyl banners are easy on the eyes and attract new customers as well.
Though wholesale vinyl banners are more economical, choosing to purchase customized vinyl banners has its advantage, too. Customers appreciate a more personal touch, and creating a personalized vinyl banner with the company's logo allows for instant brand recognition. Pre-printed vinyl banners from BannerETC.com are weather-resistant and come with an individual box for easy label and storage. Additionally, custom vinyl banners allow as many as 3 colors.
BannerETC.com is confident of its top-of-the-line vinyl banners backed by a strong warranty and a low-price guarantee. Durable and aesthetically pleasing, all vinyl banners by BannerETC.com is simply the best choice in advertising with vinyl banners. Simply sign up with the company's newsletter or visit BannerETC.com's official blog for more news, information, and updates on what the company has to offer.
About BannerETC.com
Situated in Rowland Heights, California, BannerETC.com is an online sign maker specializing in vinyl banners, neon signs, led signs. One may choose from a wide variety of ready-made signs. All signs are also fully customizable, come with a low price guarantee, and are backed up by a warranty. Press release produced by Cybertegic.com - an Internet marketing services agency that specializes in search engine optimized press release marketing (SEO marketing).
# # #