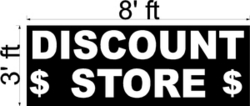 Rowland Heights, CA (Vocus) February 8, 2010
This month of February, vinyl banner expert BannerETC.com continues to show its appreciation to valuable clients with huge markdowns on limited pre-printed vinyl banners and custom vinyl banners. By taking advantage of discounts of up to 20% off on selected vinyl banners, BannerETC.com lets businesses save as much as $27.00.
For as low as $29.00, pre-printed vinyl banners are now available from BannerETC.com, the leading vinyl banner manufacturer. Originally priced at $46.00 and $56.00 respectively, the Grand Opening (GO310-R) and Now Hiring (NH310-R) pre-printed vinyl banners in 3x10 are now available for the low price of $29.00. Weather resistant and durable, pre-printed vinyl banners from BannerETC.com are individually boxed and labelled for easy storage. Moreover, custom vinyl banners at 2x4 sizes can be purchased for as low as $16.00, down from their original price of $20.00 while 3x8 personalized vinyl banners will only cost businesses a mere $53.00, down from their original price of $60.00. Custom-made vinyl banners from BannerETC.com allow clients to have as many as 3 colors for only $7.00 per color, excluding the first color which comes for free. With a wide variety of layouts, businesses will find that designing their own vinyl banners will be a breeze.
Whether it's pre-printed or custom made, vinyl banners reach a large audience with just a glance. Effective advertising through the use of vinyl banners is a good and inexpensive means of making your business known. With BannerETC.com, businesses are guaranteed top-of-the-line vinyl banners backed with a low-price guarantee and a 1-year warranty. Recognized as a leader in indoor and outdoor advertising, BannerETC.com also offers trade show banners, outdoor led signs, and indoor/outdoor signs. Sign up with the company's newsletter or visit BannerETC.com's official blog to get the latest updates and more helpful information relevant to the world of vinyl banner advertising.
About BannerETC.com
Situated in Rowland Heights, California, BannerETC.com is an online sign maker specializing in vinyl banners, neon signs, and led signs. One may choose from a wide variety of ready-made signs or have one fully customized. All signs come with a low price guarantee and are backed up by a warranty. Press release produced by ?utm_source=PRW&utm_medium=Press+Release&utm_campaign=vinyl+banners+february2010Cybertegic.com - an Internet marketing services agency that specializes in search engine optimized press release marketing (SEO marketing).
# # #