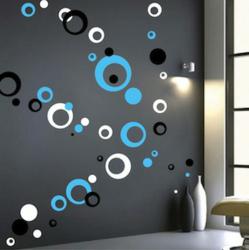 Las Vegas, NV (PRWEB) April 21, 2012
As the economy continues to rebound, homeowners and business are on the lookout for fiscally responsible ways to spruce up their homes and offices. Vinyl wall decals can transform the aesthetics of a living and working environment without a heavy financial commitment. To help consumers stay on top of what's new in vinyl wall art, Helen Mansouri, Owner and Founder of Trendy Wall Designs, has shared information on the most recent trends.
Design Packs - "Design packs are by far the most popular products out there," says Mansouri. The growing trend of design packs, which streamline customization options, in the wall art industry indicates a market that likes to take matters into their own hands. Rather than relying on predetermined size sets and color schemes, customers can pick the style, size and color for each design pack. Design packs also offer one of the most affordable wall art decor with prices starting at $8.95, according to Mansouri.
Trees and Branches Decals - After the customizable design packs, the next trend on the rise are wall decals displaying trees and branches, says Mansouri. Decals with trees and branches seem to artfully emerge from within walls to cascade across surfaces, providing charming focal points in main sitting areas, bedrooms, and foyers. The naturalistic designs often feature blossoms, falling leaves, or brightly accented birds.
Chalkboard Decals - Of her favorite emerging trend in decal art, Mansouri says chalkboard decals appeal to customers of all ages. "People who live in apartments or have kids love chalkboard decals. Moms are definitely buying for both themselves and for their kids." Chalkboard decals can come in many shapes, from a regular rectangle to an elephant shape. Mansouri says, "the chalkboard calendar decal is really desirable because you can be more organized, [putting down] meetings and appointments."
The growth of vinyl wall art industry results from homeowners who want to maintain a level of contemporary style and sophistication without the huge purchase of a painting or sculpture. According to Mansouri, "People love vinyl decals because they are a trendy new way to decorate walls. Since they are removable, wall decals are great for temporary or permanent decoration."
About Trendy Wall Designs
Trendy Wall Designs is changing the way people think about their living and working environments by providing them with beautiful vinyl wall decals that instantly bring a stylish and artistic flair to any room or office. Trendy Wall Design products are 100% safe, reusable and the perfect way to transform any space. Check us out on the Web at http://www.trendywalldesigns.com