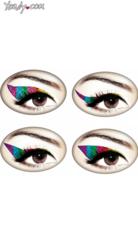 Phoenix, AZ (PRWEB) April 29, 2013
One of the newest and hottest trends to hit the market as of late are temporary body art and with the addition of the new Violent Lips and Violent Eyes brand that features brightly colored and patterned temporary lip and eye art to Yandy.com, online retailer of lingerie and costumes, shoppers can now stylishly enhance any look with ease.
An American made and based company, Violent Lips and Violent Eyes offers innovative and statement making temporary lip and eye art that lasts up to eight hours and are made of 100% gluten free latex.
Violent Lips, now available at Yandy, is available in a variety of patterns and colors. Some of the most popular styles include everything from the basic hot pink glitter and eye catching red with a matte finish to the more ornate neon rainbow, cheetah print and American flag designs. Affordable, priced at $7.95 for a three-pack, the new Violent Lips are already seemingly becoming a must-have for Yandy shoppers.
Additionally, Violent Eyes similarly allows for an easy and eye catching make up alternative look for users. Violent Eyes, similar to Violent Lips, are available in a variety of colors and styles; something to suit every situation. Yandy is now carrying varieties of Violent Eyes like the basic black cat eye to the can not miss rainbow glitter eye packs that all come with four different styles per pack, affordably priced at $7.95.
In addition to the exclusive new Violent Lips and Violent Eyes collection now available at Yandy, every shopper receives free, flat rate shipping on orders over $70 as well as a free panty with every order.
About Yandy.com
E-commerce is on the rise and Yandy.com is one of the largest online retailers of lingerie, sexy Halloween costumes, swimwear and clothing on the web. Founded in 2005, Yandy boasts more than 7,000 products always in stock at affordable prices. Yandy ensures that every customer will receive a safe, secure and private online shopping experience and is backed by COMODO online security and Google Checkout. Yandy is dedicated to customer service and only sells what is in stock which allows for quick, same day shipping. Offering the highest quality products at the most affordable prices in the market, Yandy has become a leader in ecommerce. Yandy works closely with all of the manufacturers they distribute for and hand select all of the items on the Web site to ensure customers have the largest and most diverse collection to choose from. In addition, the customer service team at Yandy is unrivaled. With attentive and helpful operators, should a question or problem arise, the customer service team at Yandy is always willing and able to assist. At Yandy, every customer can Be Sexy.
###